Hall of Fame Inductee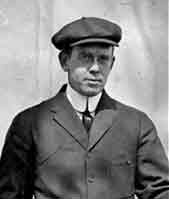 George Lyon
Inducted in 1976
Born: 3-Feb-1881
Died: 11-Jan-1916
Age: 34
State: NC
George Lyon had shot trap for just 13 years when he died shortly before his 35th birthday in 1916. Nevertheless, he was the current holder of the F. C. Cup, a title he had won in 1911 and twice successfully defended. In addition, during one shooting year he made 44 runs of 100 or more straight. He assisted the United States at the 1912 Olympic Games, as captain and coach, and U.S. representatives won both individual and team honors that year.
The year after Lyon began registering targets, he won his first of four North Carolina 16-yard championships. In 1906 he was runnerup in the Grand American Handicap, losing by one, and that same year he placed second in the first Southern handicap. Participating in the 1907 Grand American, Lyon won the Preliminary Handicap. He also won the Southern handicap and the Great Eastern handicap events the following year.
Lyon first won that coveted E. C. Cup at Atlantic City, N.J. Lester German, well-known Maryland professional and the second-place finisher, challenged Lyon to a rematch. "Chief Bull Durham" Lyon, as he was known to the Okoboji Indians, defeated German in the head-to-head confrontation held at the DuPont Gun Club in Wilmington, Del.
The second defense of his title was made in 1915 at the New York Athletic Club's 10th annual championships. Lyon posted the highest score in the shoot's history, breaking 191x200 in the preliminary event and repeating that score in the championship flight.
In between his inanimate-object title defenses, he celebrated his return to amateur status in 1913 by breaking 94x100 to win the Doubles Championship at the Grand American. The score stood as a record until 1917.
Lyon was born in Durham, NC.. descended on both sides from families who were leaders in community affairs as well as in the tobacco industry. He was an avid hunter as well as trapshooter, and at the time of his death the New York Sun published an obituary on him mentioning that he held membership in 74 different sporting clubs and social orders. He died Jan. 11, 1916 in Albuquerque, N.M.