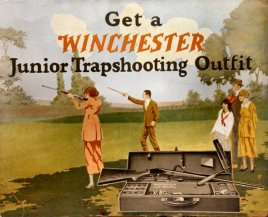 1920 easel back cardboard advertisement.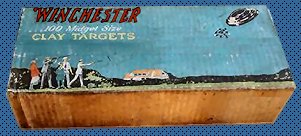 Midget Clay Target Case. It held 100 small clay targets that were used with the outfit.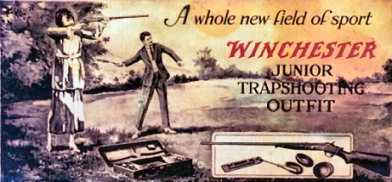 1920 easel back cardboard counter top advertisement. Photo Source: Winchester Rarities by Tom Webster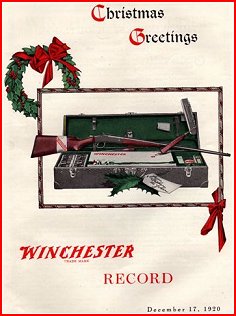 The Winchester Record (Dec.17, 1920). This was a bi-weekly magazine published by the Winchester personnel dept. Randy Davis collection.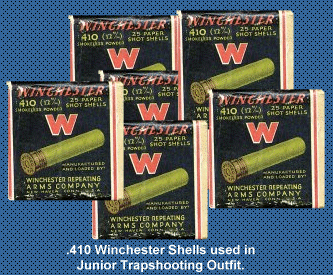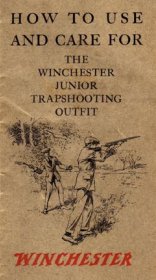 Instruction Booklets Randy Davis collection.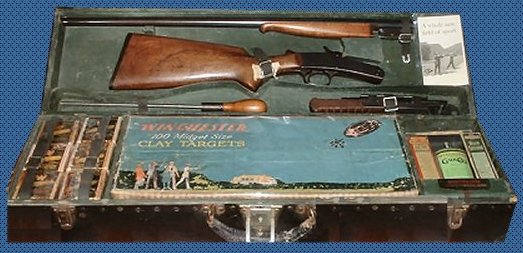 This Winchester Junior Trapshooting Outfit belongs to ATA member Randy Davis of Peculiar, Missouri. You can see a similar "outfit" in the HOF Museum.
Back in the spring of 1920, Winchester came out with their new Junior Trapshooting Outfit. It was popular than and that popularity has carried over to twenty first century collectors. Fine specimen's like the one above can bring as much as $6,000 to $8,000. The HOF has a complete set similar to the one shown above. It is on display in the museum.
The Junior Trapshooting Outfit was featured on the cover of The Winchester Record (Dec. 17, 1920). This was a bi-weekly magazine published by the Winchester personnel department. On page nine, "Bargain for Winchester People" its price complete is $48.00, but it can be obtained by members of the Winchester Family for $42.00.
---
The Following From Winchester's Catalog #82, 1920. Introducing The Junior Trapshooting Outfit.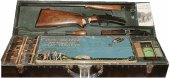 The shooting novelty of the year for old and young will be the Winchester Junior Trapshooting Outfit. A whole new field of sport is packed into a neat, strong hand case that can be placed in the back of an automobile on trips to country or seashore, or carried conveniently in the hand.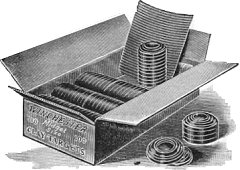 Besides the new and graceful .410 Winchester Shotgun, a little beauty and a fine arm, the outfit includes the Winchester Midget Hand Trap, with which the shooter can throw the little clay targets at which he shoots, or have them thrown for him by any companion of his outing; 150 Winchester .410 Loaded Shells (6 boxes); 100 Clay Targets; Steel Cleaning Rod; Gun Grease; Gun Oil and Rust Remover. All packed in a rugged, handsome case, 30 x 8½ x 6 inches. The total weight of outfit complete, including everything necessary for the sport of trapshooting, is about 40 pounds.
The new Winchester .410 Shotgun is manufactured with all the care and accuracy that have made its big brothers in the Winchester family World Standard. It has a strong, simple action and is of the single shot break-down type. The stock is a beautifully finished product of the pistol grip style and has a remarkably fine fit and "feel." This gun is light, easy to handle, and has almost no recoil, so that it can be used with absolute safety and pleasure by women and children!

The sturdy midget size Winchester-made Hand Trap is strongly constructed and simple tooperate. One person can both throw and shoot if he desires. This new hand trap is also made in standard size for those who shoot larger shotguns at standard size targets. The clay targets or "pigeons" are exact reproductions of the standard trapshooting targets except for size. There are 100 in each outfit and additional targets can be obtained at any time from any Winchester dealer.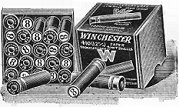 Here is a great game for every member of the family. The .410 shotgun, too, is a fine arm for practice work for the standard gauge shotguns. It is inexpensive to use and shoots as true, within its range, as all Winchester guns. It can be used for hunting rabbits, partridges, quail, and all sorts of small game. It is hard hitting and is effective over a range surprising for a small-bore shotgun.
The .410 Winchester loaded shells are carefully made and give a good, uniform pattern. They are filled with No. 8 shot. Six boxes, 25 to the box, are supplied with each outfit.
---
And Now The Gun.
Winchester Single Shot Break-Down Shotgun Model 20, .410 Bore

The new Winchester .410 bore shotgun, Model 20, is designed for the shooter who wants a small-bore, single shotgun of high grade and superior workmanship. It has all the shooting qualities that the larger gauge guns possess within its effective range of 30 yards. It is specially adapted to practice shooting, small game hunting, and breaking the midget trap targets. The cost of ammunition is comparatively little.
This Winchester .410 is an ideal gun for women and the younger members of the family to shoot because of its virtual absence of recoil and its light weight. These qualities have made it highly popular wherever it has been used.
This gun has all the finish and balance of the Winchester standard size shotguns. It is made with the same care and accuracy. The barrel is of the highest grade gun steel, accurately bored, and bearing the Winchester Proof Mark ,of barrel quality.
The stock of this gun is a handsome, well finished, black walnut product, with pistol grip. The barrel of this gun is 26 inches long. The length of trigger pull is 13½ inches drop at heel 2½ inches, an drop at comb 19/16 inches. The weight of the gun is about 6 pounds. The action is simple and strong. The gun is of the top lever "break down" type, coming down in three pieces. It is taken down and put together easily and quickly.