166 Years Old and Presented at the Dawn of Trapshooting. 1836 Sportsmen's Club Cincinnati, Ohio
* Note: The first known trapshoot (probably pigeons) was heldat this club in 1831. The trophy is now in a private collection and can be seen and enjoyed by only a hand full of people. Too Bad.
This very well could be the oldest shooting trophy of any kind in the United States. The trophy predates any known trapshooting award by decades.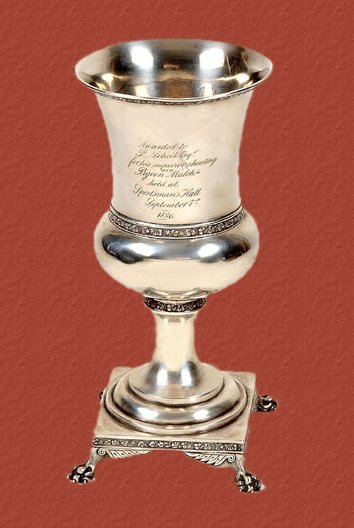 Coin Silver Pigeon Shoot Award Cup won in 1836
Marked on underside of bowl "E. Kinsey," an early Cincinnati, Ohio silversmith. The urn shaped bowl is mounted to a round pedestal, set on a square base with four lion paw feet with scrolled wing returns, 4 bands with grapes and vine motif, engraved "Awarded to P. Scheik Esq. for his superior shooting at a Pigeon Match held at Sportsman's Hall September 7th, 1836." 9.6" high x 4.5" high.