Hall of Fame Inductee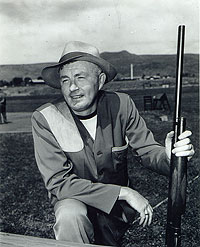 Tom Lynott
Inducted in 2010
Born: 11-May-1916
Died: 8-May-2006
Age: 89
State: UT
For 40 years Tom Lynott traveled
throughout the western United
States as sales manager for the
Winchester Repeating Arms Co.,
earning numerous trophies as a
professional and also defeating
amateur shooters. At one Wyoming
doubles championship he
was four targets over the field,
and he often hit 200 singles when there were no pro
trophies. Tom was the third shooter to break 98 from the
first year of the 27-yard line, following Arnold Riegger and
Maynard Henry. Tom placed on 14 first-string All-America
professional teams and one second from 1949 to 1967. He
also led industry handicap averages in 1949 with .9288 and
in 1955 with .9152.
At the 1952 Grand American, Tom was the lone shooter in
the entire field to break 200 straight in the Introductory
Singles. Two days later Tom broke 100 in a squad that set a
Grand record of 499x500. In the 1954 Grand he was industry
Class Singles runnerup after a shootoff with 199 and
48x50. Four years later he defeated two industry men in
the Class Championship with 198 and a shootoff. In the
1960 Dayton Homecoming he won over industry competitors
with 199.
Tom's shooting included seven states and a Canadian
province. At the 1952 Golden West Grand he won in
doubles, handicap, and the high-over-all on 700. Handicap
prizes came in 1953, 1954, 1955, 1957, 1960, 1961 (180x200)
and 1962 (190x200 from 27). He also collected doubles
awards in 1953, 1955 and 1961 (98 high over the field). In
singles he claimed trophies from 1960, 1965, and 1966.
Other industry awards were from 1949 Sun Valley, 1956
Calgary Canadian Championship (98 from 27), and 1960
Tucson Grand. At Salt Lake in 1949 he broke 200 singles, at
Billings, Mt. 198, and for the 1953 Rocky Mt. Oyster event,
he was H-O-A.
It was said Tom's patience and exuberance introduced new
shooters to the sport and gave them a foundation on which
to build. A world explorer, Lynott made two African safaris.
Back home, he once escaped from a charging grizzly bear,
dropping it with one shot. Knowing how to line up sights,
during World War II he was a first lieutenant B-24 bombardier
pilot, receiving the Air Medal, Purple Heart and the
Presidential Unit Citation. Back home again Tom was High
Chief Thundering Gun in the Shoshone Indians, and he was
a member of the Utah Hall of Fame. He passed away in May
2006, three days before his 90th birthday.