Hall of Fame Inductee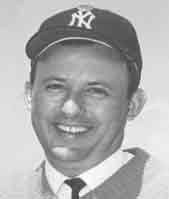 Frank Little
Inducted in 1987
Born: 16-Apr-1936
Died: 16-Dec-1993
Age: 57
State: PA
Frank Little, a Pennsylvania resident and former Chairman of the ATA Central Handicap Committee, has earned 31 ATA championships in three states, won 17 titles in two zones, captured 39 Grand American trophies, and been named to 23 ATA trap and three International All-America teams.
Little first registered targets in 1958 and since 1963 has fired at a minimum of 4,500 of mixed ATA clays every year. At the end of the 1986 target year, he had registered 98,750 singles with a .98864 average.
Frank is the only shooter to enter 15 yearly averages of 99% or more on a minimum of 2,500 singles targets. He has missed attaining that average just twice since 1970 (in 1972 with a .9884 on 4,400 targets and in 1976 with .9894 on 5,200). At the close of 1986, Frank had registered 62 200 straights (11 at the Grand American) and more than 600 perfect 100s in his career.
He was the ATA singles average leader for 1980 with .99416 on 4,800 birds. (The Executive Committee ruled to extend the average to a fifth digit to break Little's tie with Leo Harrison III). Frank was also the doubles average leader in 1971 with .9666 on 1,350 clays.
Little began his trap career in New York. Happy Felton, reporter for the shoot at which Little made his debut as a state champion, suggested a headline that held true for several years: "New York vs. Frank Little; Little Wins". The year was 1962, and Frank captured the singles, handicap and all-around titles.
Before moving to Pennsylvania in 1973, Little earned 19 championships, more than any other shooter in New York history: four in singles, one in handicap, six in doubles, and eight in all-around. The 390x400 all-around record he established in 1968 still stands. He was inducted into the state's Trapshooting Hall of Fame in 1985, the second year of its existence.
Little captured the singles once, the doubles once and the all-around three times from 1974 through 1976 in Pennsylvania. As a resident of Indiana, from '77 through '85, he earned one singles. one all-around and three doubles championships before moving back to Pennsylvania. In '86 he continued his winning tradition, nailing down the Keystone State's singles and all-around titles.
Frank broke 200 while winning the New York crowns in '68 and '70, the Indiana title in, 82, and the Pennsylvania championship in '86, making him one of eight shooters in ATA history to win four or more state titles with 200 straight.
He began winning ATA Eastern Zone championships in 1963, and for the next 10 years he captured three in singles, three in doubles, four in the all-around, and one in handicap (with 99 from 27 yards in '65). He added another all-around after moving back in 1986. In the interim, he snared Central Zone singles crowns with 200s in '78 and '80, the all-around in '78, and the handicap and all-around in '84. His 395 in the latter all-around was a zone record.
Frank earned his first Grand American trophy in 1962 when he finished third in the Champion of Champions Race. He took home seven High-Over-All awards between 1966 and 1976, five consecutive beginning with the '69 championship. He captured runnerup spot in '71, third place in '70 and '72 and three Class AA trophies.
In 1978 he tied for the Doubles Championship with 100, ending with runnerup laurels in overtime. Little broke 99 to tie for the Grand American Handicap Championship in 1976, finishing as runnerup in the shootoff. At that time his was the top score entered from 26 or 27 yards, and he became the first 27-yarder to tie for the crown. He also nailed down the All-Around title that year with 394, after 200 in the Clay Target and 95 in the Doubles Championship.
Frank has captured three Zone Champion of Champions crowns and has shot on four winning fivesomes in the Zone Team Championship (one Eastern and three Central).
He received honorable mention to the 1963 All-America team, and he was named to the men's second team the following year. He has been selected each of the 22 years since 1966, with all but five being first-team placements. In 1972 he was named co-captain.
Little paced Trap & Field All-Around Average Award standings in 1971 and he earned recognition 10 times: from 1968 through 1974 plus 1976, 1980 and 1984. In addition to his first-place status, he received one runnerup, three third-place and five fifth-place awards. He ranks third in number of All-Around Average prizes.
Frank has shot on several record squads. In 1963 he smashed 100 straight on a quintet at Thurmont, Md., that set the doubles record of 490x500, a mark that stood for 12 years. At the Indiana State Shoot in 1982 he shot on a fivesome that matched the 500x500 record on the first hundred and became one of only two squads in history to total 998x1,000. Little was one of the group's three to break 200 straight.
Little competed for the U.S. in International Competition five times, including a trip with the U.S. Shooting Team to Oslo, Norway in 1961. He and Bill Morris represented the United States in the 1964 Olympics in Japan. Little won two United States' International-style championships, and he was selected for the International All-America teams in 1972, 1974 and 1975.
He retired this year from a management position with IBM.