Hall of Fame Inductee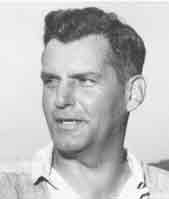 Ned Lilly
Inducted in 1973
Born: 30-Jul-1916
Died: 22-Jul-1988
Age: 71
State: MI
In 1933 at the age of 17, Ned Lilly broke 199x200 to become the youngest North American Clay Target champion in ATA history. This stood as a record until 1959, after Ned and his son had won the Parent-Child title at the Grand twice.
The former mayor of Stanton, Mich. started winning Grand American trophies in 1929, when he placed second among sub-juniors in the Clay Target race. In 1931 he was junior runner-up in the NACTC, and in 1932 he won the under-18 championship in shootoff. While winning the men's Clay Target crown in 1933, he also paced the juniors. Lilly tied with Walter Beaver for the Grand American Handicap title that same year and finished second in shootoff after a 98 from the 24, and he also earned his first of five High-Over-All crowns, with 964x1,000.
Ned broke 200 straight for the Clay Target title in 1955, won the CofC in 1951, and placed second in the GAH in 1952. He teamed with his father to win the initial Parent-Child race at the Grand in 1940, and they were also the champs 11 years later. In 1956 and 1957 Ned and son John were the victors. Lilly's H-O-A wins were in 1933, 1950, 1953, 1955 and 1958, with his 977x 1,000 totals tieing Joe Hiestand's record in '50 and '58. Ned captured the Jim Day Cup in 1937 and placed second in the All-Around in 1952. He led the 1958 Vandalia Handicap with 99 from 26 yards, the farthest back a gunner ever stood to win.
In 1937 Ned broke 98 to win the Doubles Championship, and he repeated that tally for the title in 1956. In 1962, with his arm just out of a cast which he removed himself (against the advice of his wife, who is a nurse), Ned Lilly won his third Doubles crown, missing two of the last five-pair then smashing the next 90 for a 98.
When Ned lost a target in the second century of Tuesday's Class Championships at the 1956 Grand, he ended his Grand American streak of 1,064 straight registered singles on the grounds. The run began in 1954.
Ned first registered targets in 1925, at the age of 9, using a .410. Two years later he won the first of six Michigan junior titles, that initial time firing a 20-gauge. By 1932 he was beating all the men in Michigan, taking their state title when he was 16 year old.
Lilly has 50 state championships to his credit, including 49 in Michigan and one Colorado doubles title. He won the singles 14 times, and his perfect 200s in 1954 and 1964 make him the only Wolverine to record two such scores in earning the crown. Seventeen doubles titles have been Lilly's, and he has won the all-around 16 times. In 1941 he annexed the handicap championship, and in 1954 he made a clean sweep of the singles, doubles, handicap and all-around.
Ned was the ATA singles and doubles average leader twice. His .9877 on 2,200 singles targets led in 1951, and he was off just .0001 as he led on 3,000 clays in 1954, the same year he held the doubles high mark of .9637 on 800 birds. He was also twin-bird leader two years later, with .9586 on 750 targets.
Sixteen times Lilly was named to All-America teams, including 11 consecutive years from 1946-1957. He was a member of the junior teams in 1932 and 1936. As a junior he captained the men's team in '33, and he was captain again in '56 and shared the captaincy in '59.
In 1973, at the time of his induction, Lilly was living in Westbrook, Conn. and serving as supervisor of trap and skeet promotion at Winchester-Western.