Hall of Fame Inductee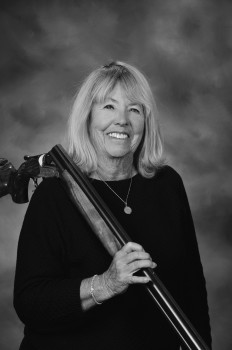 Vickie Larkin
Inducted in 2016
Vickie Larkin of Beaumont, California, watched husband Tom shoot clays for about two months before giving it a try herself. A few years later, she beat the field at a buddy shoot. Soon after, she registered her first targets, at Redlands on December 31, 1979. The Larkins went to their first Grand in 1980; shortly after arriving, instead of a session on the practice trap, she entered the President's Handicap and broke 99, tying for high gun and ending with the overall runnerup and women's trophies. Since then she has competed at every Grand except the year daughter Leah's due date for her first child fell during the tournament.
In those 35 years of participation, Vickie has won nearly 40 trophies, including women's Doubles titles in 1990 and 1991, the Doubles Class Championship in 1988 and 1992, and the Dayton Homecoming in 1989.
She was overall runnerup in the 1989 Spring Grand American Handicap Championship following a six-round title shootoff, at the time the second-longest handicap overtime on the books. She has won nearly 40 Satellite Grand titles from the Autumn, Dixie, Great Lakes, Midwestern/Southwestern, Southern, Spring and Western tournaments. Twice she earned Class AA Spring Grand all-around trophies, the 1989 one for a women's record 396.
While collecting 10 ATA Western Zone singles crowns, she established the category high of 199 (1989) and matched that four times. Vickie was California women's champion in 1985 and again every year from 1988 to 1991. She tied for the overall doubles title in 1988. She earned numerous trophies at Arizona state, including women's honors in the 1989 singles with 200. She also won the Golden West Grand singles twice with 200.
A multiple-time women's state team captain, she was inducted into the California Golden State Trapshooters' Association Hall of Fame in 2000.
Vickie has been named to 25 All-American teams since 1984: 21 women's and four Lady II. She was ATA women's doubles average leader in 1987, 1988 and 1991, and between 1985 and 1994, she earned eight Trap & Field All-Around Average Awards. She attained the 27-yard line in December 1982 and was the second lady to earn the ATA's AA-27-AA pin, in 1987.
In 1985 she became the fourth woman in the ATA to break 100 in doubles, and another perfect century two years later made her the first with more than one. She has posted 23 twin-bird 100s, ranking third on the all-time women's list.
The Larkin family have accomplished several tandem accomplishments: Tom and Vickie were the first husband and wife to each break 100 in doubles (1985); they plus Leah were the first family with three members who each had 100 in doubles (1994), the third family to have three All-Americans named in the same year (and the first father/mother/daughter group, 2000), and third with three members to have earned AA-27-AA pins (2008).
Vickie shot trap while pregnant with Leah, and she continued competing while undergoing treatment for breast cancer in 1993, crediting trapshooting with helping her get through that ordeal.
As of May 2016, she had career ATA target totals of over 173,000 singles, 216,000 handicap and 157,000 doubles.