Hall of Fame Inductee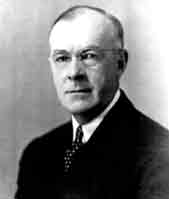 R. A. (Fred) King
Inducted in 1997
Born: 20-Nov-1885
Died: 22-Apr-1966
Age: 80
State: TX
Born November 20, 1885, Rufus Alfred "Fred" King first competed in his hometown of Delta, Colorado at the county fair and was perfect in the opening two events.
Taking part in the 1917 Grand American in Chicago, King claimed the Richardson Memorial Trophy for 99 plus 24x25 in shootoff. In 1921, he broke 94 plus 16-17 in shootoff over Sam Sharman to capture the Grand American Doubles Championship. His high score of 81 7x850 won him the equivalent of the present High-Over-All crown.
King placed second in Class AA of the 1930 Clay Target Championships with a 197 and 25 in overtime, and he was a member of the winning West Team in the same event for that year and again the following year. In 1932 he was champion in Wednesday's All-American Championship Day with a score of 199.
Five competitors with 100 headed the 1937 Grand American Handicap, and King earned sixth place in shootoff for 43x50 after posting a 99 from 24 yards. He went on to capture the Frigidaire Trophy by leading combined scoring from the Preliminary Handicap and the Grand American Handicap with 98-99. King, along with Phil Miller, shared the Jim Day Cup (now known as the All-Around) with 390x400. Fred also claimed High-Over-All honors with 881x900.
In 1939 King posted one of two 200 straights in the Singles Class Championship and earned Class A honors without a tie. He started a long run that ended at 471 in Houston, Texas.
Fred's residence remained in Delta until late 1922. With the Colorado and New Mexico state championships contested as a joint event, he won singles titles from 1915 through 1918 with 98. 100, 99 and 93, respectively. He was the All-Around champ in 1921 with 337x35t1.
He then moved to Wichita Falls, Texas. and competed in the 1923 Loite Star tournament. There he made trapshooting history by winning all four ATA crowns - the Singles with 195, the Handicap with 95, the Doubles with 45 and the All-Around with 335x350.
King repeated as Texas All-Around champion in 1925 with 391, 1936 with 383, 1938 with 379 and 1940 with 387. His 391 remained an All-Around record for 14 years. Fred matched the existing state handicap mark with 99 from 24 yards for the 1938 crown and repeated in 1940 with 97 from25. He also garnered Doubles titles in 1937 and 1938 with 94 and 88 respectively.
King began a tenure as ATA vice-president in 1932 and was later elected president of the Amateur Trapshooting Association in 1940.
King's personal accolades include numerous other accomplishments. He was the yearly average leader in Singles in 1909. Doubles in 1910 and Handicap in 1937, as well as All-American honors in 1937.
Other significant victories include Doubles at Fred Stone's Park near Denver in 1912, Preliminary Handicap high with 97 at the 1914 Inter-State Association shoot at Oklahoma City, a record .9870 on all Western Association targets for 1925, Singles high at the 1930 Tri-State shoot at Memphis with 299, Elks Singles and Doubles winner at the convention in Atlantic City, Elks All-Around champion at Denver in 1939 and first-day victor with 99 and 75 straight at the 1939 New York Athletic Club tournament.
Fred's son Alfred Rufus was the winner of the 1930 Grand American Handicap at the age of 14.