Hall of Fame Inductee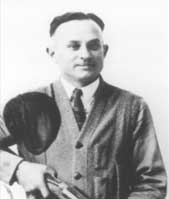 Sam L. Jenny
Inducted in 1999
Born: 25-Aug-1888
Died: 19-Jun-1964
Age: 75
State: IL
For 20 years Sam Jenny was rated as one of the world's best shooters, both at clay targets and flyers.
Jenny earned his first major awards at the 1922 Great Lakes Zone tournament, where he won the all-around title with 556x600 and the Preliminary Handicap with 94 from 23.
Jenny collected five Grand American trophies during his career. He captured the 1926 Clay Target title with 199 and a shootoff over four others. At the 1929 tournament, Sam won the Doubles Championship with 191x200, a three-bird margin; placed third in AA with 196 and 25-19 in overtime in the Class Championships; and finished second in Governor's Cup HOA standings with 955x1,000. Jenny's last Grand trophy came in 1932, when he earned high-gun honors in the Vandalia Handicap with 97.
At Illinois state tournaments, Jenny claimed the 1930 handicap crown with 96, and two years later he was the state doubles champ with 95.
In other clay-target competition, Jenny downed 93 from 23 to win the 1929 Grand International Handicap in Tecumseh, Ont. A five-man team race was held on the second hundred of the Singles Championship, and Jenny was a member of the victorious Illinois squad.
An accomplished pigeon shooter, Jenny was a member of the 1927 U.S. team at the International meet Competencia Internacional de Pichon in Havana, Cuba. At Elliott's Midwinter Shoot in Kansas City that year, he shared top honors with Fred Etchen in the International Flyer contest, each scoring 79x80. In 1936 at the 32nd annual Interstate Shoot at Elliott's Kansas City Shooting Park, Jenny finished first in the International Flyer Championship with 94x100, and he was a member of the victorious four-man Illinois team in the flyer cup race.
Jenny's additional honors include being named to the 1929 All-American team. In 1926 his .9060 doubles average led Illinois shooters in that discipline. In 1927 Jenny was one of a select few sportsmen in America to be invited to a dinner in New York given by American Sportsmen to honor Charles Lindbergh.
Through his 20 years of competitive shooting, Jenny fired at between 2,500 and 4,500 targets annually. The automobile sales-man was known as a colorful person, and sportswriters found him good material for their stories.
An ATA life member since 1924, Jenny passed away June 19. 1964, at the age of 75.