Hall of Fame Inductee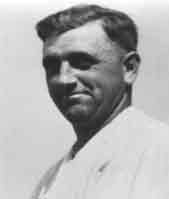 Walter Beaver
Inducted in 1974
Born: 2-Mar-1897
Died: 5-Jun-1957
Age: 60
State: PA
Walter Beaver set a record in winning the Grand American Handicap—becoming the first to win it from so far back. In 1933 he broke 98 from 25 yards, then was perfect in a one-round shootoff over Hall of Famer Ned Lilly to capture the big title. Beaver also won the North American Clay Target Championship twice, in 1934 and 1946.
He shot his first registered targets in 1925 when living in Philadelphia, Pa., averaging .9120 on 250, but the next year he was averaging .9632 on 1,250 singles and .9266 in handicap. His shooting career extended to 1955, where he shot at only 100 but broke 98 of them. Walter Beaver, who was born in 1897, died in 1957 of a heart attack.
He had tough going in the Keystone State because of the competition of Hall of Famer Steve Crothers, but Beaver won his state singles championship in 1934, 1938 and 1947. That first year he also won the doubles and was one target away from the handicap win with 97. His 1938 victory was with 200 straight. Both his North American Clay Target Championship triumphs were with 199.
In 1935 Beaver paced ATA shooters in singles averages with .9868 on 5,100 targets, and he did it again six years later with .9891 on 3,050. That first year he won the Open Championship at the Grand with 200 straight, and he broke 199 to tie for the North American, setting a long-run record of 635 straight in the doing.
At the 1933 Grand, in addition to becoming the GAH champion, Beaver was on the winning Eastern Zone team, and he ended as high on the 1,300 program targets with 1,245, two ahead of runner-up Joe Hiestand, also a Hall of Famer. Beaver led ATA doubles averages in 1938 and 1939, and his many other championships include the T. Clarence Marshall marathon in Yorklyn, Del. in 1939 with 494x500. He was picked for All-America first-string honors seven times (in the years when only six or seven were chosen), and he was on the second team twice, in 1942 and 1946. Walter Beaver fired at 72,700 16-yard targets in his shooting career.