Hall of Fame Inductee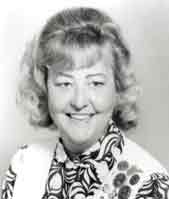 Ruby Jenner
Inducted in 2006
Born: About 1926-1927
Died: 7-Jan-1985
Age: 58
State: WI
Ruby Jenner of Clintonville, Wis., was introduced to the sport by her husband Ray and began shooting in 1961.
During her career, she captured numerous ; trophies in Grand American competition. Jenner topped women in the 1965 Preliminary Handicap, a feat she also accomplished in 1968. The latter year she was ladies' runner-up in prelim Saturday's handicap. In 1966 she earned three trophies, including top women's honors in the Dayton Homecoming. Jenner was the ladies' Clay Target champion in 1969 and placed third in her category the next year in the Champion of Champions race. In 1971 she brought home four trophies, topping women in prelim Saturday's singles, the Dayton Homecoming, Clay Target Championship and the Champion of Champions.
Jenner was a nine-time All-American, earning seven first-team placements (once as co-captain) and two on the second team.
Jenner had three state women's titles to her credit, winning them in 1968, 1971 and 1973. She was inducted into the Wisconsin Hall of Fame in 1977. She also captured numerous trophies in Florida State Shoot and Chain competition and picked up awards in Indiana and Ohio. The third woman in ATA history to make it to the 27-yard line, Jenner earned her punch to the back fence on July 21, 1972, at Waukesha (Wis.) GC. Jenner was first chosen for the Milwaukee Journal "Top Ten Team for Wisconsin" in 1964 and then earned the honor eight more times. She was the only woman on the team each time.
Traveling overseas in 1972, she captured national championships in Australia and New Zealand.
Early in her shooting career, she considered one of her biggest thrills to be shooting off with Punkin Flock for a doubles trophy.
Jenner and son Rick set ATA records more than once for their shooting. In 1971 they both claimed category crowns in the Clay Target Championship, with Rick winning the sub-junior prize. It was the first time a mother and son had won category titles in this event. Also, when they both earned captain's spots on the 1971 All-American team, they became the only mother and son to have done so. They both also captured state titles in 1973. Rick and his sister Raye Ann will travel from their homes in Alaska to accept the induction of then" mother.