Hall of Fame Inductee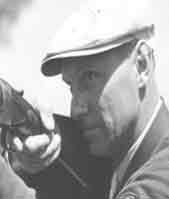 Johnny Jahn
Inducted in 1976
Born: 11-Mar-1890
Died: 4-Jan-1982
Age: 91
State: IA
Johnny Jahn of Spirit Lake, IA, began his shooting career in 1913 as an amateur, averaging .9376 on 1,650 targets, and five decades later he was still hitting them—and at a 95% clip.
It didn't take him long to break into the winners' column at major shoots. In 1914 he won the Iowa State singles championship, and he repeated with victories in 1915 and 1917. In 1915 his average of .9614 on 2,100 targets was the seventh-highest for the year—-almost two full points over Hall of Famers Fred Gilbert and Mark Arie.
In 1919 Jahn joined the Hercules Powder Company and participated at shoots from that date until 1951 as an industry representative. During that period he shot at 107,900 16-yard targets and averaged more than 97% on them. During a 16-day period in 1921, he broke 745x750 in five one-day shoots. His .9240 doubles average in 1924 was the second-highest in the ATA that year, and his .9757 singles average was the fourth best. In 1925 he dropped to fifth in doubles with an .8778 average, but he rebounded the next year to tie for first with .9060. In 1933 his 92% was the highest in the U.S. on more than 750 targets.
One year later he won the Professional Clay Target Championship at the Grand American and was named to the All-America team as an industry representative. He was selected for the team again in 1944, when he won the Professional Clay Target Championship for the second time. He also was a member of the team in 1949 and 1951.
Jahn tied twice for the Professional Doubles title at the Grand American, in 1921 and 1947, but both times lost in shootoff.
As a powder company representative he won the Hercules Cup three times, and he was one of four Hercules men coaching shooting in the Army during World War II.
When he retired from shooting in 1967, he had attended 22 Grand Americans.