Hall of Fame Inductee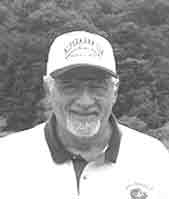 Frank Hoppe
Inducted in 2005
Born: 20-Nov-1942
Died: 28-Apr-2013
Age: 70
State: NE
One would think if someone broke their first 25 targets, it would be down hill from there. This was not the case for Frank Hoppe, who broke his first 25 straight in 1966 when his father-in-law introduced him to the game and then within a short time soared to heights accomplished by few.

An impressive list of Grand American wins includes the prestigious 2002 Clay Target Championship with a score of 200x200 in the program and then 275 straight to beat 40 others in the shoot-off. Frank came close to winning this coveted title before. In 1984 he was runner-up in Class AA. Six years later he was Class A winner and in 1998 was victorious in Class AAA.
Hoppe has tied for the Grand American Doubles Championship numerous times. He won his first Vandalia trophy in 1980 when he finished runner-up in class AA in the main twins. In 1982, 1988, 1998 and 2001 he won class trophies.
The Nebraska lawyer (whose telephone doesn't work at night) won the 1991 Dayton Homecoming, the 1994 Trap & Field Handicap, the 1997 Champion of Champions and was Class AAA runner-up in the 2002 Class Singles.
A member of 23 All-American teams since 1976, Hoppe has been on 10 first teams and 13 second teams. He was the 1999 captain.
Frank has won 10 Satellite Grand Championships and established a tournament All-Around record of 399x400 at the 1995 Western Grand. In Central Zone competition, Hoppe won the 1986 doubles title and the 1987 and 1996 all-around crowns.
He has won 19 Nebraska State Championship titles since 1973 including four singles, one handicap, eight doubles and six all-around titles.
Trap & Field All-Around Average Awards were presented to him in 1980, 1991 & 1998.