Hall of Fame Inductee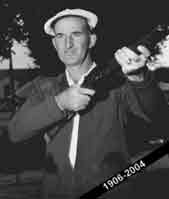 Joe Hiestand
Inducted in 1973
Born: 26-Nov-1906
Died: 5-Oct-2004
Age: 97
State: OH
Joe Hiestand of Hillsboro, 0hio, began winning major championships in 1931, and 41 years later, while competing in his first Grand as a veteran, he captured three trophies in the over-65 age group, including the High-Over-All. Joe has been named to 21 Sports Afield All-America men's trap teams, serving as captain from 1934 through 1936, in 1938 and later in '47 and '49.
Hiestand won more Grand American championships than any other person in the 73-year history of the event. He leads North American Clay Target competition with five wins, shares the Doubles Championship top spot with Hall of Famer Mercer Tennille (at four times apiece) and has captured the High-Over-All an unprecedented seven times.
From 1934 through 1936 he won the Jim Day Cup, forerunner to the All-Around. High-Over-All honors were captured by him those same three years plus '38, '46, '49 and '56. The record 977x1,000 he set in 1949 was tied twice but was not broken until 1964.
The Clay Target Championship was Hiestand's in 1935, '36, '38, '44 and '60. The four-time Doubles Champion won the Champion of Champions honors in 1947 and 1949, and he teamed to win the Brother-Brother crown in 1955. Until 1972 Hiestand held the record number of 19 perfect 200s recorded on the Vandalia grounds.
At the 1938 Grand, Joe established a long run record of 966 registered singles and an unregistered run of 1,191, including practice and shootoff targets. After the Grand he completed his registered run at l,179 and finished with an unregistered string of 1 ,404. Those runs were not broken until 1959.
Thirty-three state ATA championships have been Hiestand's since 1931, and all but one (the all-around in 1945 in Florida) have been in Ohio. He captured eight 16-yard crowns from 1931 through 1959, three of which were with 200 straights (1937, 1939 and 1949). Until 1955 he was the only person to have accomplished such a feat. He won the Buckeye doubles 12 times and the all-around the same number.
Hiestand has broken 59 perfect 200s in his career, nine of which were recorded in one year in the middle '30s. His .9298 on 2,650 handicap targets led ATA yearly averages in 1935, and he headed twin-bird averages in '41 with .9457 and two years later with an even 94%. Joe broke 98.70% of 3,000 singles targets to lead in 1942, his .9879 on 3,400 clays was tops in 1947, and he paced the 1950 standings with .9895 on 2,000 birds. As of 1972 Hiestand had more than I 07,000 registered 16-yard targets to his credit.
He has served five years in the Ohio State legislature, and in 1973 will complete 18 years of service in government. In his legislative capacity, Joe has been active in fighting excessive gun legislation in Ohio. As a training officer in gunnery during World War II, he was responsible for teaching the fine art of gun pointing to aerial gunners.