Hall of Fame Inductee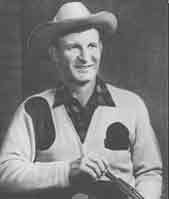 C. E. Barnhart
Inducted in 1980
Born: 23-Sep-1923
Died: 16-Apr-2019
Age: 95
State: MO
C. E. Barnhart gained recognition a year after he began registering targets when he became the Zone Singles Champion at the 1958 Grand American and placed on the men's All-America second team. His shooting merited All-America status for 16 straight years from 1958-73 and again in '78, with his being named co-captain of the team with Dan Orlich in 1963 and captain in 1964. That latter year, he set an amateur Grand American High-Over-All record of 978x1,000 on 600 singles, 300 handicap and 100 doubles targets.
C. E. Barnhart's 15 Grand American trophies include the Clay Target Championship and top spot in AA in the Singles Class Championship of 1963 (both with 200 and shootoff). He was runnerup in the Clay Target race in 1959, Zone Singles Champion in 1961, Champion of Champions runnerup in 1962, All-Around runnerup in 1964 and Class AA winner in the 1965 H-O-A. He was also second in the Dayton Homecoming in '63 and '64 and captured AA laurels in that race in '66. Barnhart earned second spot in the Introductory Singles in 1965 and was Class AA high in that race the following year.
C. E. Barnhart claimed a total of 17 state titles in Kansas and Missouri from 1959 through 1977. He won the Kansas State doubles crown in 1959, the singles championship the following year, and the all-around title both years. After moving to Missouri, he captured the singles championship in '61 through '63 and was doubles titlist in '63, '65 through '67, '69 and '77. He won the Missouri all-around crown in '62 and from '65 through '67. C. E. Barnhart nearly made a clean sweep of Southwestern Zone crowns as a second-year gunner in 1958, winning the singles, the handicap (with 99 from 25½) and the all-around. He captured the all-around again in '63 and '71 and the 16s in '67.
C. E. Barnhart maintained a singles average of over 99% for six years: '59, '61 through '64 and '66. In 1962 he established a record .9937 on 4,300 singles targets which stood for three years. He led singles standings again in 1963, with .9928 on 4,500. On May 12, 1979, he reached the 100,000 registered singles mark with an average of .98336, second only to Dan Orlich's .98826. Barnhart earned consecutive Trap & Field All-Around Average Awards from 1959 through 1966, and another in 1971, with the nine awards setting a record for the most by one person.
In Golden West Grand competition, C. E. Barnhart tied for the singles championship in 1960, captured the all-around and second spot in doubles in 1963, and was the doubles champ in 1965.