Hall of Fame Inductee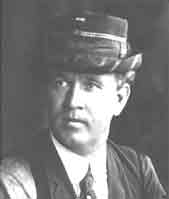 Woolfolk Henderson
Inducted in 1970
Born: 9-Feb-1876
Died: 10-Jul-1951
Age: 75
State: KY
Trapshooters knew him as the 'yellow-haired lad from Kentucky," and he had the distinction of accomplishing a near-impossible feat at the 1914 Grand American at Dayton, 0hio. Woolfolk Henderson not only won the GAH with a 98 from 22 yards (the best score posted from that yardage to that date) but he also won the North American Clay Target Championship with 99x100 and the Doubles Championship with 90, giving him all three coveted crowns. "Woolly" is the only shooter ever to sweep the three main events at the Grand.
James Woolfolk Henderson, his given name, was born in Fayette County in Kentucky and spent most of his life as a resident of Lexington. He made his first appearance at the traps at his local club in 1905, where he won the club medal for high average. The next spring he annexed the state singles title and added the Kentucky live-bird championship to his credit later in the year. In the 1908 GAH he lost a two-way shoot-off to Fred Harlow for the coveted title. Twelve years later, Henderson was sixth in the GAH after tieing for third place.
Henderson had given up trapshooting in July of 1913 after competing as an industry rep for four years. He didn't return to the sport until just before the Grand American in August of 1914. Prior to that year's Grand, he walked off with the Kentucky State singles championship to qualify for the Clay Target Championship (open only to state champions or runners-up at that time). He won the Blue Grass singles crown three more times in the next eight years and captured the state handicap title in 1922.
In 1914 and 1915 Henderson led the amateur singles averages, becoming the first man ever to lead the yearly standings twice. He broke .9663 of his 2,050 targets in 1914 and set an amateur record—at that rime— of 97.53 percent on 2,800 targets in 1915. Henderson didn't participate actively at the traps after 1924.
A 1925 issue of Sportsman's Review reported of Henderson: "He has made over one hundred runs each of 100 or more straight, and seven times he has had runs of over 200 straight. His longest run at registered targets was 283, and a few days later he made a run of 253 straight."
"Chief Soft Call" as he was known among the Okoboji Indians shooting fraternity died in Lexington on July 10, 1951 at the age of 75.