Hall of Fame Inductee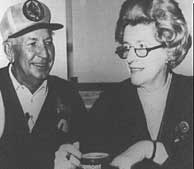 Marian Harrison
Inducted in 1988
Born: 27-Jul-1913
Died: 26-Jun-1996
Age: 82
State: CA
The Harrisons began shooting in Illinois before moving to California in the late 1940s. Each was inducted into the California Trap Hall of Fame in 1981. They now reside in Sandy, Utah.

Marian served as secretary of the California Golden State Trapshooters Association from 1952 to 1960 and again from 1972 through 1979. During this time, she was responsible for promoting and administering the Western Midwinter Chain, which, for almost three decades, was comprised of a four-month schedule of shoots in California, Arizona and Nevada, with Hawaii being included for several years.
Marian's trap participation began in 1941, and 10 years later she led women's handicap averages in the ATA with .9058 on 850 targets. During her career, she reached 25½ yards (at a time when only one woman had earned her way to the 27), and she registered a total of 70,950 ATA singles targets.
Her 12 times on All-America teams included four first-team placements in 1953, '58, '62, and '63; second-team positions in 1952, '55, '57, '61, and '68-'70; and honorable mention in 1972.
At the 1962 Grand American, Marian was runnerup in the women's High-Over-All with 928x1000. During that week she was women's champion in the Introductory Singles with 194, and she and Bill tied for the Husband-Wife award with 389 but lost in overtime. In 1968 she earned the women's Doubles Championship with 92.
Her 189 in the 1951 Golden State championship singles led the women's field by five, and she retained the title the following year with one bird less. She was runnerup in 1953 and shared the second-place spot with two others in 1962 after 195.
In 1961, firing from 23 yards, she won all the women's handicap awards at her state shoot except the one in the main race, shooting well enough to win the Class B High-Over-All on 850 targets. As Marian Unger she finished second in women's standings of the 1948 Illinois Singles Championship following a tie at 93.
Mrs. Harrison earned the ATA Western Zone women's singles title in 1958 with 182, in 1969 with 189, and in 1973 with 190. During years of Western Zone, Midwinter Chain and Golden West Grand competition she accumulated many awards.
She also was proficient in flyer shooting, becoming the second woman in the United States and the first in the West to accomplish 25 straight. That 25 also marked the first for a woman at Reno, traditionally the largest flyer shoot in the U.S. In 1960 she placed third among women in the Championship of the Americas at Mexico City.