Hall of Fame Inductee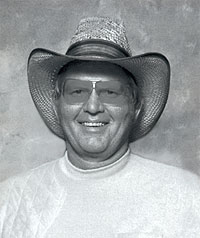 John Hall
Inducted in 2010
John Hall's shooting earned him
five first and five second All-
America teams between 1973 and
1982. In 1970 he had the fourthhigh
handicap average in the
association and in 1978 he earned
a Trap & Field All-Around Average
Award. He completed his ATA
Grand Slam in 1981, earning the
No. 30 spot on the list. Hall's first Grand American trophy
came in 1972 with the AA award in the Class Doubles. The
next year he was a member of the winning State Team for
Texas. In 1974 Hall was AA runnerup in the Class Doubles
after his career-first doubles perfect century and placed
second among all competitors in prelim Saturday's twins.
He was AA champ in the 1975 HOA and placed fourth in the
1977 Ohio Handicap. With 200 in the 1978 Clay Target
Championship, Hall took home the AA runnerup trophy
after shootoff, and in 1979 he earned AA second place in
the feature twins.
His Satellite Grand trophies include AA honors in the 1981
Midwestern Doubles Championship. In Spring Grand
competition Hall was AA runnerup in the 1977 title twins
then placed second among all competitors in the same
event the following year. Hall was all-around champ at the
1974 and 1976 Southwestern Zone tournaments, adding
the doubles crown the latter year. At the 1971 Golden West
Grand he was AA winner in the Singles Class Championship,
and he also collected AA awards in a 1977 preliminary
twin-bird event and the 1980 Doubles Championship.
Hall has 12 Texas ATA crowns to his credit: the singles in
1973 and 1979; four straight doubles titles starting in 1975
plus the 1980 championship, and the all-around in 1974 plus
every year from 1976 to 1979. Hall also won four highover-
alls from 1974–1979. In 1977 he set records of 100 in
doubles and 395 in the all-around, the latter mark standing
for 16 years. He was named to 14 state teams.
Hall also won awards while competing at California, Idaho
and Oklahoma state shoots plus at Las Vegas and on the
Arizona Chain. He served as Texas Trapshooters Association
president in 1973 and was inducted into the state Hall
of Fame in 1984. While operating a gun shop, John built
custom rifles and stocks, later developing a line of sporting
products that included the first one-piece plastic shotgun
shell, with no brass. He also developed a plastic gun case
for airline travel, and he continues operations in engineering
and plastics. At one point in time, John was also
manager of the Greater Houston Gun Club.