Hall of Fame Inductee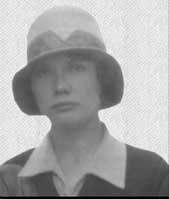 Marie Kautzky Grant
Inducted in 2002
Born: 19-Sep-1902
Died: 27-Jun-2002
Age: 99
State: IA
On Marie Kautzky Grant's first attempt at trapshooting, she hit two out of 25 targets. These humble beginnings did not demonstrate what she would later accomplish in the sport.
Approximately one month shy of her 100th birthday, Grant will be inducted into the Trapshooting Hall of Fame.
Often competitive with the men, something that was uncommon in her time, Grant will be only the 22nd woman enshrined into the Hall of Fame. Bob Allen, 1982 inductee, shot with Marie early in his career and said she was by far the best of the women in Iowa.
"She wasn't just competing with the women. She was competing with everyone," he said.
From 1928 to 1941, she earned nine Grand American trophies, including the ladies' title in the 1928 Grand American Handicap and the 1941 Clay Target Championship.
Throughout her career, Grant won the Iowa state women's singles championship 18 times. In 1934, she "shot like a house on fire," according to coverage in Sportsmen's Review, and set a women's ATA record for state shoots of 197x200, tying for the state singles championship. After shooting off in 110-degree temperatures against two men, she went home with runnerup honors. Had she won the shootoff, it would have been only the second time that a woman captured a state title over the men.
An article in the Aug. 4, 1934, issue of Sportsmen's Review called Grant "the 'idol' of all Iowa trapshooters." She was inducted into the state trapshooting Hall of Fame in 1970, its inaugural year.
At that time, average leaders were listed relative to the number of targets they shot. Grant had the high singles average among women in her target division in 1930, 1931, 1933-34, 1934-35 and 1936. In the latter year, she set a record among women with her average of .9664.
She was the only female member of the 1941 All-American team.
Allen said he was most impressed with her concentration and ability to shoot but noted he was also in awe of her beauty. He said she was a tough competitor but always honest and fair.
Once while shooting in the same squad with her, Allen witnessed her commitment to fair play. The scorer called one of her targets lost, but one person claimed to have seen a chip come off it. The scorer asked Grant if she saw it. She replied, "I guess if I can't break it so you can see, I don't deserve it."
Grant's trapshooting skills came from her father, who taught her the sport when she was 18. He was the inventor of the single trigger for double-barrel shotguns and, in 1909, broke the first 200 straight in any registered shoot.
Kautzky opened a gunsmithing business and general sporting goods store in Ft. Dodge, Iowa. After his death in 1938, Grant and her two brothers operated the store until 1988. Although she now resides in a nursing home, she lived independently and managed her own affairs past the age of 98.
Grant married in 1934 and has three children—Ruth Askelson of Des Moines, Chuck Grant of Des Moines, and Mary Ann Zwaschka of West Des Moines. It was because of her responsibilities as a wife and mother that she no longer shot after 1948.
Marie Grant died on June 26, 2002 at the age of 99. She was fully aware of her induction which took place on August 14, 2002.