Hall of Fame Inductee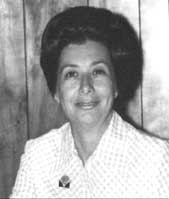 Betty Ann Foxworthy
Inducted in 1980
Born: 20-Apr-1929

State: IN
In her over-20 year career as trapshooting's premier journalist, Betty Ann Foxworthy has become not only a walking Who's Who on the people behind the gun but also the pulse of the trapshooting world as reflected in the pages of Trap and Field, official ATA publication.
A cum laude graduate of Butler University, Betty Ann joined the Trap and Field staff in 1956 and was named editor in 1960. Her energies have been spent in making the magazine a quality publication, in traveling thousands of miles a year to report shooters' achievements in a lively and interesting manner, and in establishing systems of records and the preservation of photographic material and biographic data which forms a basis of current and historical information on the sport. Betty Ann has served on the Hall of Fame Selection Committee, more recently named the Biographical Committee, since its inception in 1968. She planned and largely executed the Hall of Fame inauguration and dedication ceremonies in 1969. She surveyed college programs in shooting in 1973 and served on the Youth Governing Board at its inception in 1976. Betty Ann's knowledge of shooters has made her a valuable member of the All-America Team Selection Committee since 1964, and she collaborated with trapshooting historian Jimmy Robinson on the book "All-America Trapshooting Teams" in 1979.
Through Trap and Field her implementation and promotion of Operation Red Wagon to help Vietnamese children earned the ATA a Marine Corps commendation. In addition she promoted a three-year ATA new-member contest, boosted trapshooting through a mailing to gun clubs of a packet which included a pamphlet for news personnel, and conceived and produced the first four-color ATA brochure.
Betty Ann Foxworthy, a champion of private gun ownership, appeared at Congressional hearings in Washington, D.C. three times to protect shooters' Constitutional rights. Several of her editorials on American rights and freedom were reprinted in national non-shooting publications. She has also contributed articles on trapshooting to various periodicals and appeared on radio and television promoting the sport, plus being the subject of many newspaper interviews herself. Betty Ann has given invaluable assistance to local sportswriters at the many shoots she has attended.
Betty Ann and husband Roy, 1960 GAH Champion, promoted and conducted several trapshooting tours to Australia, New Zealand and Tahiti. These tours initiated similar return tours to clubs in the United States and Canada and to the Grand American. All of this cemented relations between countries through friendships and the exchange of ideas. Also, over a 15-year period, Roy and Betty Ann were responsible for encouraging participation of eastern and midwestern shooters in western trapshooting via flights to the Golden West Grand.
Betty Ann, who also functioned as publisher as well as editor for many years, retired from publishing duties in 1979 and assumed the role of Editor Emeritus and Field Editor, covering shoots, conducting interviews, and acting as liaison between the ATA and Trap and Field. Betty Ann's accomplishments, all the more remarkable because of being in what is usually regarded as a man's field, led to her being named to "Who's Who Among American Women."