Hall of Fame Inductee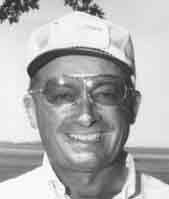 Bueford Bailey
Inducted in 1981
Born: 11-Feb-1925
Died: 31-Aug-1989
Age: 64
State: NE
Bueford Bailey of Big Springs, Neb., has 32 Grand American victories and 19 state titles to his credit, and he holds the record of 72 lifetime 200 straights, having eclipsed the former high when he entered his 71st in 1979. He has been named to the All-America team 22 times, captaining it once.
Bailey has nine major titles from five different races among his Grand victories. He was Introductory Singles champ in 1962, and each of his other titles were captured twice: the Dayton Homecoming in 1961 and 1975, the Clay Target in 1964 and 1968 (with perfect 200s, the latter over a then-record 43 others with the perfect score), the All-Around in 1964 and again the next year, and the Champion of Champions in 1966 and 1974. His Grand American trophies include nine singles, eight doubles (two runnerup ones in the championship), one handicap, one all-around, an international and a parent-child award in addition to his championships, and he was a member of winning teams in the 1960 Zone Team and 1965 State Team races. One of his singles wins, the 1958 prelim 16-yard championship, was a co-championship shared with John Sternberger after they entered 100s in regulation firing and shot at 300 extras without a miss, a record which still stands (although since then tied) for number of shootoff targets in one day for the grounds. Fourteen of Bailey's career 200s were accomplished at the Grand, making him third-high in number of 200 straights recorded on the grounds.
The first state title Bailey won was the 1939 Nebraska junior crown, which he captured again in 1941. His initial championship among the men was the 1958 doubles, and that same year he was all-around champion at the Golden West Grand. He snared Nebraska singles, doubles and all-around titles in 1962 and 1966 and won the handicap, doubles and all-around in 1965. He won Nebraska singles crowns again in 1964 and 1975, the singles and doubles in 1974, the doubles in 1967 and the all-around in 1972 and 1980. Three of his singles titles were with 200.
Bailey was captain of the All-America team in 1964 and was selected for the team every year from 1957 through 1979 except 1971, when he didn't meet the minimum-target requirement. He has earned four Trap & Field All-Around Average Awards, having the highest composite nationally in 1964. Bailey had a 99%-or-over singles average on 2,500 targets or more nine times between 1959 and 1979, leading national averages in 1964 and 1973, and he has the second-high average—.98492 --on 100,000 registered 16s.
In 1973 and 1979 Bailey had straight runs of over 1,000 in singles (one of three in history to accomplish the feat twice), and at one time he held the individual scoring record for 500-bird doubles marathons. He was also on a world's record singles squad, breaking 200 at Denver in 1969 in a fivesome that totaled 996. He had 529 100 straights in singles, one 100 from the 27 and eight perfect centuries in doubles from his first year of registering in 1939 to the end of the 1980 target year.