Hall of Fame Inductee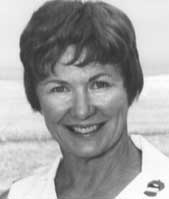 Punkin Flock
Inducted in 1978
Born: 7-Jan-1909
Died: 9-Jul-1978
Age: 69
State: FL
Punkin Flock has won 30 trophies at the Grand American, 11 Southern Zone ATA titles (including one doubles crown over the men), 15 Florida State championships (including one singles title over the men); led averages among women nine times (in all three types of shooting), an has been named to All-America team more years than any other femme trap shooter.
Punkin Flock began her string of Grand American wins with the women's runner up trophy in the 1953 Clay Target Championship, and she captured the top spot it that race 14 years later. In 1971 she was runnerup again. She topped women's scoring in her class in the Singles Class Championship eight times—for the Class A trophy in '62 and '63 and for AA honors in '65, '67, '71, '72, '74 and '75. In both classes her highest winning score was 198 in 1962 and 1975.
Mrs. Flock led Vandalia Handicap scoring among the women in 1958.
In the Grand American Doubles Championship, Mrs. Flock was the femme champion in 1958, two years after she was runnerup there. In 1959 and 1962 she was runnerup again. She earned women' Class B recognition in the Class Double Championship in 1971, and the following year earned the AA prize in the same event. She topped distaff scoring in prelim-day doubles in 1968 and 1970.
In H-O-A competition, Punkin Flock led women in Grand performance in 1962 and 1964, and placed second in 1966 aria 1968. Also in 1964, she paced women in the All-Around.
She triumphed over the women in the Champion of Champions race in 1963 was runnerup in 1969, and placed third in '64 and '67.
Her Florida State women's titles cam in abundance between 1948 and 1977 am were highlighted in 1972 with a 199x200 a score which also bested all the men. Her second-best women's title score was 197, posted in 1967 and again in 1977.
Mrs. Flock topped women's singles scoring for the Southern Zone ATA championship for seven of the 10 years between 1957 and 1968, and she captured another singles title in 1971. In 1963 she beat out the entire doubles field for that ATA zone crown with 96.
Mrs. Flock was named to the women's All-America second team in 1954 and 1955, and from 1959 through 1976 she was a member of the first team, being named captain four times and co-captain three times, for an accumulation of 20 years as an All-American.
She led women's averages in singles six times, doubles averages twice and handicap once.
By the end of the 1977 target year, Mrs. Flock had entered 125,800 singles targets, second only to Hall of Fame enshrinee Mrs. Dorothy Marker in number of 16s registered by women. Mrs. Flock shot at the most singles targets in 1955 and 1970, and she headed the most-shot-at doubles targets for women eight times between 1959 and 1972.
Punkin Flock was the third of four women in ATA history to score 99x100 in doubles, on Apr. 4, 1968 at the Florida State Shoot. She became the fourth woman to reach the 27-yard line (during the GAH in 1972), was the third to reach the 26-yard line (in 1967) and was again the fourth to earn yardage to the 25 (during the Vandalia Handicap in 1966).
In that potentially history-making GAH in 1972, Punkin Flock was down one in 75 and was holding her own for the championship (which was won that year with 99). She missed the seventh target on the last trap and hit a broken 97th bird but missed the good one. Her 97 was good for a yard punch that was a half-yard more than she needed to reach the 27.
Punkin Flock has won numerous AA trophies over the men at her state shoots, and in 1963 she was H-O-A victor over the entire state field.
She led women's All-Around Average standings in 1964, '66, '67, '71 and '72, and she placed second in 1963 and 1968. Her 1964 lead was with a record .9176, which held up for four years.