Hall of Fame Inductee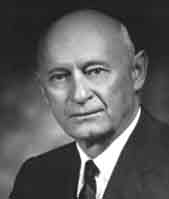 Orville S. Eberly
Inducted in 1976
Born: 25-Nov-1900
Died: 3-Apr-1983
Age: 82
State: PA
Developing his abilities to their fullest in his commercial ventures enabled Orville Eberly to contribute significantly to the strong financial position of the Amateur Trapshooting Association. Treasurer of the ATA since 1969, Eberly has unselfishly given of his own personal time and energies in investing the ATA's funds. His innovative ideas and conservative practices have greatly contributed to the growth of all the ATA's assets.
Eberly has also been instrumental in building the Pennsylvania State Sportsmen's Association, the second-largest state association in the ATA. He is now honorary president-for-life of that association. The ATA treasurer was one of the backers and guiding lights at the Fayette Gun Club in his hometown of Uniontown, and he has also been a benefactor to many organizations and worthwhile causes, one of the most notable being his personally seeing that more than 200 worthy students have received their first year's tuition at Penn State.
While health has kept Orville Eberly from competing as much in recent years as he once did, he has registered 79,650 singles targets since he first began shooting in 1949. During that time he amassed eight state titles, including five doubles ones (in 1950, 1952, 1953, 1955 and 1957) and three all-arounds (in 1950. 1952 and 1957). He also was high-over-all at his state shoot on four occasions. He was Eastern Zone doubles titlist in 1951. and the following year he won the 500-bird marathon at the Middle Atlantic championships with 496, during the first marathon he'd ever shot. (The race was shot over four electric traps and one hand-pull one, and the champion lost all four targets on the latter field.)
In 1954 Orville Eberly was runnerup to the singles champion at his state shoot, and the next year he was elected delegate, to begin a career in ATA service that eventually found him functioning as its corporate treasurer and sound financial advisor.