Hall of Fame Inductee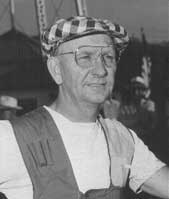 Marvin Driver
Inducted in 1975
Born: 8-Nov-1906
Died: 10-Mar-1977
Age: 70
State: IA
Marvin Driver, president of the ATA in 1973, won his first Grand American trophy as a member of the winning 1953 Iowa State team. He repeated in that spot 11 years later, and he won trophies for placing on winning Central Zone teams in '55, '58, '60 and '61. In 1954 Marvin Driver won Class A in the Class Championships with 200 straight and shootoff, and he won prelim 16s races twice in the mid-50s. That 200 at the 1954 Grand was the lone one in a record-breaking squad of 995x1,000, and that squad record stood until 1968. In 1965 another 200 and shootoff gave him fifth place in AA in the Class Championships, and a year later he won A in Saturday's prelim doubles contest with 97. In 1971 he captured AA in that same race with the same score. By 1972, he was in the veteran classification, where he won seven trophies during the Grand, including that H-O-A. He was also high veteran in the Class Doubles Championship in '73.
Marvin won 10 Iowa and eight ATA Central Zone crowns. His first state title came in '52, when he smashed 200 straight and another 125 to win the singles, plus he took the doubles with 98. The twin-bird trophy was earned again in '58, and he won the doubles and all-around in '59. Doubles titles were also his in '61, '62 and '73, breaking 99, 98 and 97 in that order, making the Council Bluffs man the Iowa leader in doubles championships earned. He repeated as singles champ in '64 and '72.
His Central Zone titles included five doubles championships from '51 to 63, the singles in 1955 and 1958, and the all-around in 1960. Placing on three men's All-America teams prior to 1973, he earned the captaincy of the '73 veteran team and captured a slot on the '74 vet team.
In 1952 Marvin Driver was elected to the Iowa board of directors, and he served there for the next 20 years, twice being president of the state association. He was also delegate from Iowa for more than 10 years.