Hall of Fame Inductee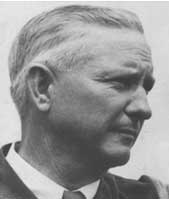 Homer Clark
Inducted in 1969
Born: 8 Jan 1884
Died: 13 Nov 1972
Age: 78
State: IL
Homer Clark may go down in history as the most durable trapshooter who ever lived. In 1967, after he had been shooting for over 60 years, he still was very active, registering 3,350 singles targets and breaking them at a .9656 clip—at 83 years of age.
Clark was born at New Douglass, Ill. on Jan. 8, 1884 and lived most of his life at Alton, Ill. He first shot targets in 1907 and in less than a year became one of the top amateur shooters in the country. His first big victory came in 1908 when he placed first in a 100-bird race among some of the best gunners of Illinois and Missouri. He was fifth among the amateur shooters in the 1909 averages, hitting a mark of .948 5, just .0024 behind the leader. In 1910 he joined the Western Cartridge Company and tied for the professional championship at the Grand American with 190x200, losing the shootoff by one target. The race was shot on 160 singles at 18 yards and 20 pairs of doubles. That same year he tied the existing world record by breaking 99x100 from 21 yards at Hickman, Ky. and set a club record at Houston, Tex. with 149x150 on singles targets.
Clark won the professional yearly average race in 1916 with a mark of 98 percent on 2,100 targets, the first time that high an average had ever been posted. In 1914 he won the E. C. Cup (emblematic of the world's championship at inanimate targets), and he won final possession of the cup in 1916, the same year he won the Hercules all-around championship.
He repeated as the rep average leader in 1918 with .9764 on 3,310 singles targets and had the longest straight run of the season by a rep, 247. He won his first professional championship in 1917 at Chicago with 94x100 from 18 yards. He repeated the next year at Columbus, 0. with 194x200 (again from 18 yards). He again won at Vandalia, 0. in 1925 with 199x200 (at 16 yards).
It was at the Hill Top GC at Paris, Ky. during the Kentucky State Shoot of 1933 that Clark etched his name into the doubles record book by becoming the first man ever to post a score of 100 straight in a 50-pair race. (Mark Aries 100 straight seven years earlier was in a 200-bird event.) Age proved no deterrent to Clark, as he won his only Illinois State singles amateur championship in 1943 at the age of 59. (He had been ineligible for amateur prizes most of his life because he was a rep.) Celebrating his moving into his 67th year in 1951, he tied for the state championship with a remarkable score of 199x200, but lost the shootoff. His average that year on 2,700 targets was a fine .9855, third among all the amateurs in the ATA. In 1961, at age 77, Clark tied for the North American Clay Target Championship at the Grand with 200 straight and scored 99x100 in a shootoff to finish fifth. He missed his first Grand in over 50 years in1965 due to illness in his family. Homer Clark was named captain of Jimmy Robinson's 1962 Sports Afield All-America veterans team, the first time such a team was selected.