Hall of Fame Inductee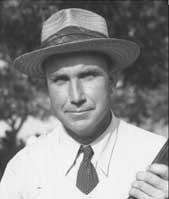 Herschel Cheek
Inducted in 1974
Born: 16-Nov-1903
Died: 12-Feb-1990
Age: 86
State: IN
Herschel Cheek first came into trapshooting prominence the first year he began competing, In 1930 he won the Great Western Handicap in Chicago, IL, with 97 from 17 yards, defeating among many others with 96s the great Mark Arie. Just three years later the Clinton, IN man was breaking 197 to win the Champion of Champions race at the Grand American (in the days when it was a 200-bird race), and he was runner-up in that same competition seven years later. At that later championship, he tied for runner-up in the North American and ended as High-Over-All. He also captured the Grand American High-Over-All Championship in 1943, the same year that he broke 97 to tie for the Grand American Handicap. The farthest back of the six who knotted for the title, Herschel Cheek ended as sixth with 20 in shootoff from 24 yards.
The year of 1943 also saw him entering the second-highest average in handicap, being runner-up in the Grand American Doubles Championship and tieing for the Grand American at live birds. He was also runner-up in the Doubles during the 1942 Grand.
A noted flyer shot, Herschel Cheek won the All-Around Championship at targets and flyers at Jenkins Bros. in 1949 and 1954, and he captured his Hoosier State title six years. In 1948 he represented the United States in the Match of Nations in Lisbon, Portugal and won a doubles race there.
He won Central Zone championships—the all-around and the doubles—in 1940, and his list of Indiana State championships is extensive. From 1933 to 1955 he captured nine singles titles, and he won the 1934 handicap; his 10 doubles crowns extended from 1934 to 1954, and the all-around was his 11 times in those same years. In 1962 the Indiana association honored this past president of theirs by awarding him permanent possession of a traveling doubles trophy for having more state twin-bird titles than anyone else. The year of 1962 was also a big one for Herschel Cheek in singles. He was a member of a squad at the Indiana State Shoot, at his own club in Clinton, that broke the second 500 straight in squad history. Among his many other trophies, he also counts the marathon at Yorklyn, and he has been on the winning Indiana State team at the Grand. President of the ATA in 1950, Herschel Cheek has won more Indiana State championships than any other. He placed on All-America teams nine times—seven times on the first team, captaining it in 1943, and twice on the second team. Since becoming a veteran, Cheek has won that title in the Clay Target Championship at the Grand, in 1973.
As of 1973, Herschel Cheek had 77,500 registered 16-yard targets to his credit.