Hall of Fame Inductee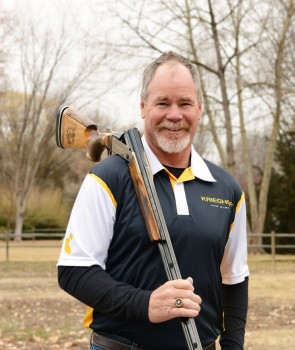 Stuart Welton
Inducted in 2019
Stuart Welton and brother Tony worked at the Boise (ID) Gun Club as kids, and at the end of the day, father Dwayne would let them shoot a few rounds. In 1974 at age 12, Stu began his ATA career, quickly moving to the 27-yard line by age 14.
After his 1980 graduation, longtime shooter Bernie Voyles took Stu to the Grand. He won five trophies, including junior titles in the Doubles Championship, All-Around and High-Over-All.
Since then he has collected 40 more awards at the Grand. In 2009 he broke his first Grand 100 in doubles. He would go on to shoot two more that year, including in the Doubles Championship, where he emerged the winner after four extra rounds. Five years later he captured the Clay Target crown with 200 plus 450 more in a three-day shootoff over 49 others. He has also won the Champion of Champions twice, in 2007 and 2014. In all he has broken 200 in singles at the Grand 20 times, and he has had 11 twin-bird 100s at the tournament.
Welton has collected three overall Spring Grand titles: in 1996 the all-around and this year the singles and high-over-all. His Western Grand crowns include the 1992 and 2012 doubles plus the 2015 and 2018 singles. At Western Zone tournaments, Stuart has earned one singles, one handicap, two doubles and three all-around championships.
In 1979 Stuart claimed the Idaho junior crown. The next year, at age 17, he won the overall singles title with 200. Since then he has earned 34 additional Idaho championships. He has topped the feature 16s 11 more times and has five titles each in the handicap and doubles plus 13 in the all-around.
Stuart holds the ATA record for all-around average with .9841 in 2009, and his 2014 average of .9821 places eighth on the list. He was ATA leader in 2005 and 2009 and has earned three additional Trap & Field All-Around Average Awards.
Leading the ATA in doubles in 2009 with .9917 on 1,800 birds (seventh on the all-time list), Stu topped everyone in handicap in 2014 with .9678 on 3,200 (eighth overall). His 2009 singles average of .9970 on 3,000 targets places 10th in ATA records. He has logged singles averages of 99% or better 20 times since 1996 (including 12 seasons on a minimum of 2,500 targets).
Stu earned 11 open All-American team placements between 2004 and 2019. He was a member of the 1978 sub-junior team. In 1991 he completed his ATA Grand Slam with 100 in doubles.
In 2001 he and Ted Schlecht shot off for 25 rounds, the all-ATA one-day shootoff record, for the AA singles prize at the Idaho State Shoot. Stuart also holds the record for the longest doubles shootoff. After a four-way tie of 100s for the 2012 Western Grand title, he and Leo Harrison III went 15 rounds without a miss before Harrison forfeited.
In 1997 Stu broke 200 singles, 100 from the 27 and 100 doubles in the championship events during a weekend shoot at Twin Falls GC in Idaho.
Stu's future goals include earning more Grand wins and gaining more shooting friendships.