Hall of Fame Inductee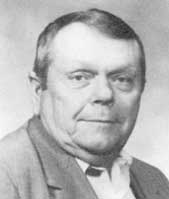 Larry Bumsted
Inducted in 2004
Born: 13-Aug-1945

State: IA
Larry Bumsted began a long shooting career when his uncle introduced him to the game in1967. Since that time he has been named to 22 AII-American teams (captain in 1988 and co-captain in 1989 and 1994), and won 41 Grand American Trophies which include three Doubles titles (1984, 1987, 1991) and the 1987 AII-Around and High-Over-AII Championships.
Larry's first Grand trophy was C runner-up honors in the 1970 Class Doubles. The following year he won Class A in the Dayton Homecoming with his first 200 straight.
Bumsted became the first at the Grand to break 100 singles, 100 handicap and 100 doubles all in one day. He did this on preliminary day Friday, August 10, 1990. During that Grand, he also was the first to break all 400 doubles targets on the program.
Larry's titles at satellite Grand Americans include 33 from the Southern Grand, eight from the Dixie Grand,16 from the Spring Grand and 21 from the Great Lakes Grand. At the 1988 Western Grand, he won the singles with 200 and placed third in the main handicap.
Between 1987 and 2002, he captured two singles and six all-around titles at the A.T.A. Central Zone shoot. At the 1988 Zone Shoot he and Dave Berlet set a 200 bird shoot off record of 725. Larry won the overtime and the title.
In Iowa, his home state, he has won six state singles, three doubles and six all-around crowns. Three times, he has shot on 500x500 squads and on November 5, 1987 he broke 100 from 27 yards to complete his A.T.A Grand Slam.
Larry was inducted into the Iowa Trapshooting Hall of Fame in 1985. His current career-registered targets include 208,000 singles, 214,750 handicap and 127,350 doubles.