Hall of Fame Inductee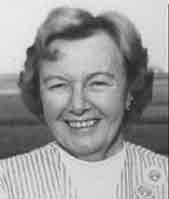 Rhoda Wolf
Inducted in 1993
Born: 18-May-1906
Died: 26-Oct-1982
Age: 74
State: PA
From 1950 through 1975, Rhoda Wolf earned 20 Grand American trophies, more than any other shooter from Pennsylvania at that time.
Mrs. Wolf also captured three Keystone women's titles and the same number from A.T.A. Eastern Division meets. She was inducted into her state's Hall of Fame in 1989.
Rhoda was named to the women's All-America team for the first time in 1954, and was a constant choice from 1958 through 1966. She was selected again in 1968 and 1969.
Rhoda earned her first Grand trophy in 1956 when she broke 97 from 19 yards to pace women by two in the Grand American Handicap Championship. She won again in 1964 for her score of 95 from 21 yards, and was runnerup in 1959 with a 95 from 21 yards and 23 in a shootoff.
Mrs. Wolf earned the coveted woman's Clay Target title in 1962 with 196 and 25 extras in the shootoff. She was runnerup in 1960 with 196 and in 1964 with a 194.
Rhoda posted a pair of 197s for trophies in Introductory Singles and secured top women's award in 1962. She was runnerup six years later.
In class races, she took home five trophies in a span of 13 years. Her 198 in 1959 and 1961 won women's Class B the former year and A the latter. She earned ladies' "A" recognition in 1965 with 193 and her 197 in 1972 contest was good for both women's and veteran Class B awards.
A special Grand American women's veteran race was held from 1950 through 1978, and Rhoda won the title seven times--more than any other woman. Trophies were awarded on the first hundred of a 200-target singles race (Introductory Singles until 1970 and class 16s after that). The qualifying age for women vets was 50 until 1964 when it was raised to 60. Mrs. Wolf won her first women's veteran trophy in 1959 after a 95 tie. Her other victories were in 1961 with 98, 1962 with a 97, in 1967 with 99, in 1970 with 95, in 1972 with 99, and in 1974 with 88.
Rhoda broke 194 to earn the Pennsylvania women's 16-yard crown in 1953, and three years later she won with 189. She captured her third title in 1966 with 192.
She snared her first Eastern Division (known as the Eastern Zone at the time) femme crown in 1953 breaking a 193. In 1957 she was victorious with 95x100, and in 1963 she regained the title with a 192.
Rhoda topped Pennsylvania women's singles averages four times. In 1953 she had .9194, and she was high again in 1957 with .9324. In 1959 her .9446 placed 6th in A.T.A. ladies averages, and the following year her .9464 was ninth in the association.
Mrs. Wolf served as president of the Women's Trapshooting League of Philadelphia, and as of the league's 35-year anniversary (1963-64 season), she was the lone member to break 100 straight and had been high average winner five times.
A member of the Atlantic Indians, she was the first woman to enter 100 straight at one of that association's meets. She was also the first lady to smash 100 at both the Doyelstown and the Quaker City clubs and to hit 50 straight during night shoots at Delaware River Gun Club.
She earned 100-straight pins at Tucson and Las Vegas, and in 1958 became the second woman to post a perfect 100 at the Golden West Grand in Reno. Stretching that to 150 straight she finished the race with 198, good for women's recognition.
Mrs. Wolf, a former high school French and history teacher born in England, was in her early 40s when she registered her first targets in 1950. She passed away in 1982 at the age of 74. Surviving her was her husband Dr. Lewis Wolf, himself a trapshooter and gifted ophthalmologist surgeon and former president of the Pennsylvania State Sportsman's Association.