Hall of Fame Inductee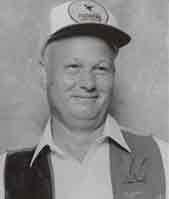 Myron Willoughby
Inducted in 2002
Born: 23-Apr-1930
Died: 24-Dec-2000
Age: 70
State: MO
Myron Willoughby first shot trap in 1959, when a co-worker at Armco Steel Corp. asked him to fill out the company league team. Although he had never shot at clay targets, he had hunted since he was a child with his father and two brothers. Using his old hunting gun, Willoughby hit 23x25 on his first try, and his "addiction to trapshooting" began.
He started shooting registered targets in 1960 at the Owl GC in Kansas City, where he won Class C honors. Willoughby traveled to the Grand that year, when Ernest Jelley was President of the ATA. Since they were both from Kansas City, Willoughby thought he should go.
His first win in handicap came at the Golden West Grand in 1961. Following that win from the 20-yard line, Willoughby advanced to the 27 in just 10 months.
Willoughby passed away Dec. 24, 2000, following heart surgery. It was seven weeks before he would have celebrated his 50th wedding anniversary with his wife Louise.
During his shooting career, he won 12 Grand American trophies, including third in the 1966 Clay Target Championship following 200. He won one award at the Midwestern Grand and had six championships from the Southwestern Zone and three from Missouri state shoots to his credit. He earned several additional trophies at the Golden West Grand.
Willoughby was a member of the record-setting squad at the 1975 Grand which broke 997x1,000 in the Singles Class Championship. He and son Steve also won Parent-Child honors in the same event, which Willoughby considered his proudest moment.
He was a 14-time All-American, having been a member of the men's first team eight times and the second team six. He was a member of the Missouri state team every year from 1970 to 1980.
Willoughby was inducted into the Missouri Hall of Fame in 1983, where it was said that he had "gained a national reputation for his many important wins and the high averages he maintained over the years."
During a 20-year period, he won more than 70 ATA trophies while competing in more than 30 states. "We would drive all night," Louise said, referring to their many trips. The pressure to win was strong for Willoughby. "If he didn't, he didn't have money to go to the next shoot," she added.
He did particularly well in states where the temperature soared. "If it was hotter than blazes, he was too," Louise said.
Willoughby shot every day of the week except Mondays, and that was only because there were no gun clubs in the Kansas City area open Monday nights.
C. E. Barnhart traveled and shot with Willoughby often. Barnhart said the thing that impressed him the most about Willoughby is how seriously he took the game. "He was all business when he went to shoot," Barnhart said.
Although he was a tough competitor, Louise points out that he always practiced good sportsmanship, which was instilled in him by his father. She said he never let on when he was mad.
During his career, he registered 17 200 straights, 215 100 straights in singles and two 100 straights in doubles.
Willoughby retired from shooting in 1981 because of health problems. He had registered 102,700 singles, 43,750 handicap and 32,100 doubles targets.
Willoughby served in the Army after high school, completing its leadership courses. In 1982, he retired as a supervisor with Armco Steel after 34 years of service.