Hall of Fame Inductee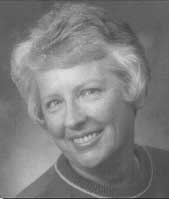 Judith A. Wegner
Inducted in 1995
Judy started hunting with dad Pete in 1957 when she was 12. The following year, he took her to the HilIdale Gun Club where she began shooting trap. She registered her first targets on August 16. 1959 and won a trophy in the process. By the 1960s and 70s she had become one of the top women doubles shooters. An 18-year old in 1963, at her first Grand American tournament, she won the ladies doubles championship with an 88. She was also victorious in 1964 with 90, and 1985 with 94 after a shootoff, claiming runnerup positions in 1968, 1972 and 1974 with a 91 and two 92s. 15 of her 22 Grand American trophies were won in twin-bird events.
A 99 from 20 yards during the 1964 Vandalia Handicap ended in an 8-way deadlock for third which Judy won in the tie-breaker. That same year she captured runnerup in ladies High-Over-All by four targets with a 929x1000, and again in 1973 with 903. In the 1967 Grand American Handicap she captured runnerup spot with a 96 from 22½ yards plus 25 in shootoff.
In the Central Division her singles championship wins were in 1964 with 87x100, 1973 with 196, 1979 with 198 and 1980 with 197.
During her Illinois state tournaments Judy won the ATA ladies crowns in 1964, '65, '74, 79 '83, and '84 scoring 191, three 195s, a 196 and 197. She was runnerup on several other occasions. She claimed the ladies' trophy in the title doubles more than 20 times, maintaining strings of seven and ten years unbeaten. On Sept. 13, 1980 Wegner broke 96 from 26½ yards at Northbrook to make her way to the 27-yard line, becoming the 19th woman to do so. The same day she broke a 98 in the doubles contest.
Active for many years as a director of the Northbrook Sportsmen's Club, she became President in 1984 and in 1987 took over the job as treasurer of the Illinois State Trapshooting Association.
In 1993 Judy became the 16th woman to reach the 100,000 target plateau in ATA singles firing.
Judy won four major trophies during the 1980 and 1981 Australian National Championships including one in skeet and the ladies champion of champions award. At New Zealand tournaments from 1983 through 1988 she took home six in single rise and clay sparrow, and she was twice high lady at the Southland Club Championships.
Judy won runnerup Trap & Field All-Around Average Awards in 1964, 1973, 1975, 1980 and 1981. For her prowess in ATA registered singles, handicap, and doubles, she placed on 22 women's All-America teams in a 24-year period beginning in 1964. Judy Wegner was inducted into her state's Trapshooting Hall of Fame in 1988.