Hall of Fame Inductee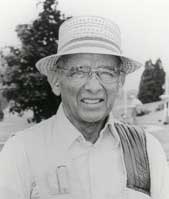 Ohmer Webb
Inducted in 2003
Born: 2-Oct-1907
Died: 13-Dec-1997
Age: 90
State: DC
Ohmer Webb, Sr. started trapshooting as a way to practice for hunting. He had a trap in his back yard and invited friends over to shoot. One of them told him that with his talent he should be shooting registered targets.
He joined the ATA in 1947 and two years later won the Grand American Preliminary Handicap with 100 straight. It was the first of 28 trophies he would eventually take home from Vandalia.
In 1980 at the age of 72, he won the Clay Target Championship. He was the oldest person to win this prestigious event and defeated 44 others in a two-night, 200 bird shootoff.
The same year, Ohmer also won the senior vet titles in the Doubles Championship, President's Handicap, Vandalia Handicap, AII­Around, and High-Over-AII. A few weeks earlier, he swept the four District of Columbia titles for a second time in his career.
He was the first veteran ever to win the men's Champion of Champions race when he broke 100 and then another 100 in a shootoff to win the 1967 classic. Ohmer was 46 years older than the last shooter in that overtime shootoff.
In the 1961 Champion of Champions, he was involved in one of the most famous shootoffs in Grand American history. Dan Orlich and George Snellenberger were eventually declared co-champions after they each ran 500 in a shootoff. Webb lasted with them the longest, bowing out after 125 targets for third place honors.
Ohmer collected 71 state crowns in the District of Columbia and Maryland-18 singles, four handicap, 20 doubles, 20 all-around, eight veteran and one senior vet. He won the senior vet handicap title at the 1986 Southern Grand. A 15-time All-American, Ohmer was team captain twice, once each as a veteran and senior vet. He earned senior vet Trap & Field All-Around Average Awards in 1980 and '86.
His son was in charge of maintaining the Grand American traps for a number of years and he fondly recalls shooting at the tourna­ment in the three-generation squad-Ohmer Sr., along with Ohmer Jr., and his three sons.
Webb was a slight and modest left-hander who served as an inspi­ration to older shooters. His win of the Champion of Champions and Clay Target Championship as a veteran and senior veteran shooter served as conclusive evidence that trapshooting is not just a young person's game.