Hall of Fame Inductee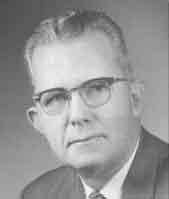 Dwight Brown
Inducted in 1992
Born: 13-Jul-1911
Died: 9-Jan-1984
Age: 72
State: KY
Dwight Brown was taught to shoot in the field by his minister father when he was but a tot. 'Dad Brown' accompanied him throughout the years as he became prominent both in competition and service to the A.T.A. and Hall of Fame.
Dwight was the inaugural chairman of the Hall of Fame Committee in 1968 the first year since completing his term of office as A.T.A. President and Ex-Officio. Though the building dedication and first induction's took place in 1969, it was in 1968 while he was chairman that the Hall became a reality. He continued in the chairmanship through 1971, overseeing the process for selection of enshrinees as well as shouldering the responsibilities of the infant facility.
His proposal for erecting lights for night shootoffs on the A.T.A. tournament grounds prompted their installation and first use at the 1966 Grand American during his term as A.T.A. President. Nine years as a delegate from Kentucky (1961-1969) resulted in his election for the top A.T.A. office in 1966.
Mr. Brown, a native of Barbourville, Kentucky, was an inventor of note. A power-surge protection system for microwave and two-way radio equipment, and a lightening-surge protector for cable television systems were among his inventions. These were used by various organizations including NASA's jet propulsion laboratories, Massachusetts Institute of Technology, and the military. He held patents on electronic devices, designed and built a cable system (one of the first in the country) in his hometown, and founded the town's first radio station. He was a civilian instructor for the Signal Corps during World War II.
Dwight earned more than 300 trophies from 1939 to 1977. He paced his state doubles averages 11 consecutive years (1957-1967); headed Kentucky's singles standings from 1958 through 1962, and led in handicap for 1958 and 1959. In 1964 he became the 18th shooter in A.T.A. history to break 100 doubles and the fourth to have more than one. These straights were entered in 1964 and 1966, an era when perfect scores in doubles were rare.
Dwight was the first shooter in the Southern Zone to earn his way to the 27-yard line with a 98 from 26 yards at the 1960 Grand American. He attended the Grand American more than 30 years winning a Class C trophy at his first in 1939. During the 1960 Grand he smashed 200 and an additional 21 in Overtime to win the runner-up spot in A of the Singles Class Championship. Five years later he was in a six-way tie-breaker for top honors in Preliminary Friday's 16-yard race following his 100 straight. He held many Kentucky titles from his first handicap championship in 1939 as a new shooter. He won state doubles crowns back to hack in 1958-59 and 1962-63, and in 1967 he broke a 98 for the twin-bird title, becoming the second to match the Bluegrass record set in 1948.
In 1957 he secured the ATA. Southern Zone 16-yard championship with a 197 plus the doubles with an 87. Because Dwight did not compete on Sundays, he undoubtedly missed all-around and high-over-all championships in view of his commendable scores leading up to many Sunday events.
Mr. Brown was selected for the All-America first team in 1963, was named to the second squad in 1960, and received honorable mentioned in 1964. That latter year, he represented the A.T.A. in Pre-Olympic games trap competition at Tokyo. He was inducted into Kentucky's Trapshooting Hall of Fame when it was inaugurated in 1975.