Hall of Fame Inductee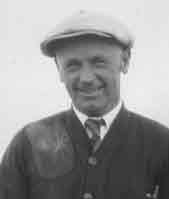 Frank Troeh
Inducted in 1970
Born: 19-Feb-1882
Died: 24-Dec-1968
Age: 86
State: OR
Frank M. Troeh learned marksmanship from his gunsmith father on the North Dakota prairies. In 1912 at the age of 31, he entered the ranks of trapshooters and immediately indicated he was headed for the top of the list by winning the tournament in which he was entered—from maximum yardage.
He won Washington State singles titles in 1914, 1916 and from 1918 through 1921. He also won the state doubles and all-around in 1921. Troeh later moved to Oregon, where he won several state titles: the singles in 1925, 1927, 1929, 1933 and 1935; the doubles in 1924, 1926, 1927, 1929. 1930, 1933 and 1949. and the all-around in 1924, 1925, 1928, 1933 and 1942. He also won the Oregon handicap in 1933, giving him a sweep of all four crowns.
From 1926 until 1930 Troeh was nearly unbeatable at the Grand, winning 10 major trophies-the All-Around from 1926 through 1929, the H-O-A in 1926 and from 1928 through 1930, and the Doubles in 1927 and 1928. Earlier he scored wins at the Grand in the Clay Target Championship (1916), Doubles (1918) and H-O-A (1916 and 1919), giving him 14 major titles in a 15-year period. He also won the Champion of Champions event in 1929 and the Class AA singles titles in 1926, 1929 and 1930.


Troeh and Bart Lewis on

an early Western poster.



He led the amateur singles averages in 1918 (.9722), 1920 (.9752) and 1922 (.9838, the highest recorded to that date). From 1913 through 1930 he was among the top 25 singles average leaders every year. Troeh was the top handicap shooter in the ATA in 1930, breaking .9212 on 2,500 targets. Twice he paced amateurs in yearly doubles marks—1916 and 1929 (breaking .9262 on 1,274 targets in the latter year).
Troeh was named captain of the All-America team the first four years of its existence—1927 through 1930. He also was selected on the 1931, 1933 through 1936 and 1938 through 1940 teams, placing him on the All-America squad in 12 of its first 14 years.
In 1920 Troeh was selected as a member of the U.S. Olympic team. Enroute to Antwerp, Belgium the team stopped in several cities, where Troeh set British records in both flyer and clay target shooting. He finished second to Mark Arie in the Olympics, despite a bone deep cut on his trigger finger. He also won a gold medal as a member of the victorious United States team.
During his lifetime Troeh shot at 109,015 registered singles targets, breaking 106 301for a .9751 average. Frank Troeh died on Dec. 24, 1968 at the age of 86.