Hall of Fame Inductee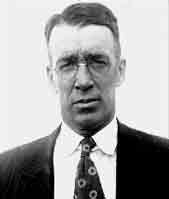 Fred Tomlin
Inducted in 1973
Born: 12-Jul-1889
Died: 18MAR1963?
Age: 73
State: NJ
Fred Tomlin's championship shooting days spanned nearly 40 years from his first amateur title in 1915 through his years as an All-America industry shooter in 1954. As amateur the Pitman NJ shooter captured his state's singles championship in 1915 and 1918, and he was the NJ handicap victor in 1919. In 1918 he placed second in the amateur championships at the Grand.
His other major awards were as an Industry representative for Remington. Tomlin earned the singles honors at the Grand in 1921, 1923. 1926 with 200 straight and 1927, then he led the reps in doubles in I 931) and '31. He smacked a perfect 200 for the open championship in 1932, and the same score won the industry honors for him in 1935. A pair of 199s and shootoff victories gave him the Industry Class and also the Clay Target Championships at the 1939 Grand, and he repeated as Clay Target winner in 1940. He placed on the All-America industry team 10 times between 1927 and 1954.
During the 1938 Grand, Fred Tomlin broke the-then long-run record of 621, ending his new string at 714. However, that record stood for only 24 hours, when Joe Hiestand surpassed him with his run of 966.
From 1925 to 1947 Tomlin led industry ATA 16-yard standings 10 times, and he was the handicap leader in 1931 with .9340. In 1925 he averaged .9854 in the 16s, and he topped the group again in 1930. Two years later he averaged .9895, and he was high three more times before 1938, when he broke 99.22%. The next year he set an industry record of .9930 on 2,450 targets, and he was also the leader in 1941 with .9832 and in 1947 with .9840.
Tomlin had registered 87,932 singles targets at the time of his death in 1963.