Hall of Fame Inductee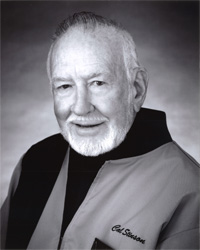 Calvin Stinson Jr.
Inducted in 2013
Born: 3-Feb-1928
Died: 2019
State: ME
Calvin Stinson Jr. started shooting in 1947 when he and his father tried their hand at the sport at their local fair. Cal Jr.'s first registered events were the Maine and New Hampshire state shoots, and he counts his first memorable win as the one at the 1948 Chain Shoot at Peckaway T&SC in Miami, Fla., where he prevailed in a shootoff after a 199. While serving in the Army from 1951 to 1952, he did some shooting at Ft. Gordon, Fla.


Stinson posted his first 200 at the 1974 Grand American, winning Class A honors in the Singles Class Championship. He has won more than 35 Grand awards, including the 1996 veteran All-Around title and the 1998 senior veteran Champion of Champions crown.


An extensive tournament traveler, Stinson has earned hundreds of trophies at Satellite Grand tournaments, including 50 age-group championships (senior vet unless otherwise stated): Dixie—1995 veteran doubles and all-around. Empire—2005 singles, doubles and all-around; 2006 doubles; 2007 and 2010 high-over-all. Great Lakes—2005 singles, doubles, all-around and HOA; 2006 doubles and HOA; 2007 and 2008 HOA; 2010 doubles and HOA; 2011 singles. Northeastern—2001 singles, doubles, all-around and HOA; 2002 doubles and HOA; 2003 doubles; 2004 doubles and HOA; 2005 doubles, all-around and HOA; 2007 and 2010 HOA; 2011 singles and doubles. Southern—2009 singles and HOA. Southwestern—2000 and 2002 doubles; 2003 HOA; 2004 singles; 2005 singles and doubles; 2009 HOA; 2011 singles; 2013 doubles. Spring—1997 veteran HOA; 2001 HOA; 2003 and 2006 doubles.


He earned spots on All-American teams 18 of the 19 years from 1995 and 2013, including three veteran and 15 senior vet. Four times he was captain of the 70-and-above squad.


His ATA Eastern Zone championships include one singles and one handicap in veteran ranks plus four singles and two doubles in the senior vet category.


His Maine championship count includes one singles, two doubles and two all-around crowns over the field as a senior veteran. The most recent was in 2011, when he won the all-around at the age of 83. His first year as a state champion was 1953, when he captured all four; the following year, he claimed three of the four. In all, he has 13 singles, four handicap, 10 doubles, 14 all-around, three veteran and 10 senior vet ATA titles in his collection.


For many years, he and his father took turns serving as Maine's ATA Delegate, a position Cal Jr. again holds today. The Stinsons are the first father and son inducted into the Maine Sports Hall of Fame, with Cal Sr. enshrined in 1982 and Cal Jr. in 1994.


As of early July 2013, Stinson had registered 275,400 singles, 211,800 handicap and 177,550 doubles targets throughout his career.