Hall of Fame Inductee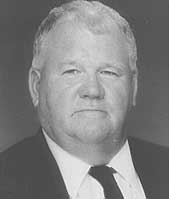 Morris Stinebring
Inducted in 1997
Born: 27-Feb-1943
Died: 18-Aug-2016
Age: 73
State: IL
Morris Stinebring began his shooting career in 1964 while living in Thawville, Illinois. He attended his first Grand American in 1965, and only four years later he and his brother Roger won the Brother-Brother crown with 395. In the 1971 Doubles Championship, Morrie broke 98 with 100 in overtime to claim second place. He was the 1974 runner-up with 100 straight before the shootoff.
In the 1979 Doubles Championship, Morrie smashed 100 in the title race and prevailed in the shootoff to win the championship. Earlier that Grand, he ended with Class AA recognition after tying at 99 for top honors in preliminary Friday's twins. He later went on to earn the AA prize in the 1975 Doubles Class Championship for a perfect score.
Stinebring garnered AA honors in the 1978 High-Over-All for 968x1000. As a member of the winning Central Division team in the 1987 Clay Target Championship, he shot a 199 en-route to his team's 989 total. The 1991 Grand American greeted Morrie with additional success. Shooting from the 27 yard line, he broke all 100 targets to tie for the crown, and then took fourth place in the shootoff. He captured runner-up in the in the All-Around with 397x400.
Morrie is the owner of numerous other personal shooting accomplishments. In 1972, he became the first person to ever break 100 in doubles twice in the same day. He also shattered the old marathon record with 978x 1000, a mark that stood for 14 years. Morrie was the first to register eight lifetime twin-bird 100 straights, and by 1996, his total stood at 45.
Stinebring has earned numerous satellite Grand American trophies, and has won the Southern Grand Doubles Championship three times - 1982, 1987 and 1993. He claimed the Central Division All-Around title in 1983 with a record tying 394.
Serving as president of the Illinois Trapshooting Association in 1970, he won the Illinois state title for the first time with 94 in doubles. He followed this up with titles in 1973 with 100. 1978 with 96, 1980 with 99 and 1981 with 96. In addition, he captured the 1983 handicap with 99 from 27, the 1984 singles with 200 plus 125 shootoff and the All-Around in 1981 and 1983.
When it comes to All-American teams, Stinebring goes hand-in-hand with this prestigious honor. He made every team between 1970 and 1975, and then 1977 through 1987. His final All-American team selection was in 1992. Morris also captured a Trap & Field All-Around Average Award in 1971 for having the third-highest average in the ATA on a minimum number of targets.
Along with the plethora of trophies that Stinebring has won at state, division and satellite Grand shoots, he was victorious in Indiana, Ohio, Iowa, Michigan, Georgia, and Florida. At the conclusion of the 1996 target year, Morrie Stinebring had registered 150,350 singles, 128,000 handicap and 88,200 doubles targets. He was inducted into the Illinois Hall of Fame in 1995.