Hall of Fame Inductee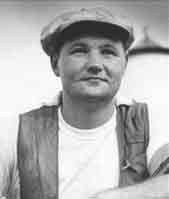 George Snellenberger
Inducted in 1983
Born: 14-Jul-1936

State: MI
George Snellenberger, named to 11 All-America teams from 1961 to 1974, is co-holder of the shootoff record of 500 straight, set in 1961 as he was named Co-Champion of Champions at the Grand American. George has earned 25 other Grand awards, two of them as he ran all 600 championship 16-yard targets in 1960. The only shooter in history to win six state singles championships with 200 straight, George has a total of 29 state and five ATA zone titles to his credit. From Coldwater, Mich. at the time of his induction, Snellenberger has captured ATA championships in that state plus Indiana, Virginia and Ohio since beginning to register in 1955.
In the record 1961 shootoff, George and Hall of Fame enshrinee Dan Orlich each broke 500 straight extras for the Champion of Champions crown as they outshot six others with 100 in the program. Snellenberger and Orlich were declared co-champions after three days of firing. Their 500x500 has never been equaled in shootoff history on or off the Grand American grounds.
Snellenberger's 26 Grand trophies began with four in 1960, the year he smashed all 600 singles championship targets during Grand American Week, he ended as AA winner in both the Introductory Singles and the Clay Target. George also placed ninth in the Grand American Handicap after 98 from 25 and was runnerup in the High-Over-All with 97lx1,000. George tied for the one-time Herb Parsons Trophy—awarded in memory of the great exhibition shooter and based on the total of the Clay Target Championship and the Grand American Handicap.
Snellenberger's Co-Champion of Champions title was the lone one for him at the 1961 Grand, and in 1962 he won the Special Doubles and was AA winner in the Class Singles, following 200. The following year he was runnerup in the Clay Target Championship after 200 straight, while more perfect scores won AA awards in the Introductory and Class Singles for him in 1964. The following year he became the third amateur to smash 100 twins on the Grand grounds as his unblemished century led Tuesday's Special Doubles.
A 200 won AA laurels for Snellenberger in the 1967 Introductory Singles, and a 99 the following year gave him runnerup honors in the preliminary doubles. He won the top AA award for his 100 in the 1969 Class Doubles, and he ended as runnerup in the championship doubles race following 98. The perfect score made him the first person in history with two 100s in doubles at Grand Americans. George and spouse Kitty set a record in Husband-Wife competition in 1970 when they totaled 395 (George lost one), and he placed third in AA of the Class Doubles with 98 and earned Class AA honors in the High-Over-All that year.
In 1971 another 98 won another third place for George in AA of the Class Doubles. In 1972 he again finished as AA winner in the H-O-A, and he also ended second in the Champion of Champions Race. In addition he was AA runnerup in the Clay Target after 200, earned the Zone Champion of Champions crown with 200 (which led the winning Southern quintet in the Zone Team Race), and ended second in the preliminary-day doubles with 99. In 1974 he placed third in the Champion of Champions.
Snellenberger's string of 29 state championships began in 1959 and includes a clean sweep of all four ATA titles in Virginia in 1974. George became the initial person to win four state 16-yard titles with 200, was the second to win five, and became the lone shooter to capture six with a perfect score. He has earned 12 total ATA championships in Indiana, 14 in Virginia, two in Ohio and one in Michigan, with 11 being in singles, 11 in the all-around, six in doubles and one in handicap. His perfect 200s for titles were recorded in Indiana in 1961, 1962 and 1966; in Virginia in 1973, and in Ohio in 1977 and 1978. Known for engaging in long shootoffs, Snellenberger had 200 straight extras in winning the 1961 Indiana State singles championship after 200, a record shootoff for the state at the time. George's 397 all-around victory at Indiana State in 1969 tied an ATA scoring record for all resident state or provincial champions, which remained unbroken until 1982. Snellenberger was inducted into the Indiana Trapshooting Hall of Fame in 1981.
Snellenberger earned the Central Zone doubles titles in 1961 and 1965 with 98s, and in 1968 he secured the singles crown with 200 and the all-around with 393. In 1972 he captured the Southern Zone all-around championship with 393.
George was named to first-team All-America listings in 1961, 1962, 1963, 1965, 1966, 1970. 1973 and 1974. He placed on the second team in 1968, 1969 and 1975 and received honorable mention in 1967.
On Monday of the 1979 Grand American, Snellenberger entered the 50th 200 straight singles score of his career. He is one of four shooters to have more than one singles run of 1,000 and over, breaking 1,012 in a row in 1960 and 1,080 two years later. He has entered four yearly singles averages of 99% or higher on a minimum of 2,500 targets, and he has one 100 from the 27-yard line and four 100s in doubles to his credit. His long-run record of 132 from 27 yards in August, 1965 at Evansville, Ind. stood for two years before being surpassed, and at that same shoot he became the second person in ATA history to complete a Grand Slam (100 doubles, 200 singles and 100 from 27 yards) during his career.