Hall of Fame Inductee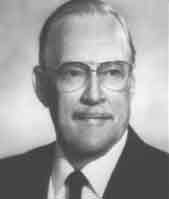 Robert W. Smith
Inducted in 1985
Born: 11-Oct-1912
Died: 17-Mar-1992
Age: 79
State: MD
Robert W. Smith is a former ATA president who, at the time of his induction, had volunteered 33 years of service to the association at both the state and national levels. He was completing his eighth year as ATA treasurer when enshrined. His service to trapshooting started shortly after he began registering targets in 1948. He attended his first of 36 consecutive Grand Americans in 1950. Just two years later he was elected ATA Eastern Zone vice president, succeeding to the presidency in August, 1956.
During his tenure as ATA president, he secured a new long-term lease of the ATA shooting grounds from Dayton officials at a time the city of Dayton needed more land itself, in order to expand its airport. The lease helped insure that future Grand Americans would be held on the site of the association's headquarters, as they had been since 1924.
Smith was instrumental in guaranteeing the continuation of an official ATA publication after the Sportsmen's Review changed ownership and the new Trap and Field evolved. Also during his presidency the first scoreboard building was constructed on the Grand grounds. He was one of the first to work with the National Rifle Association in restoring the participation of the United States in Olympic trapshooting competition.
In 1977 Smith, at that time a retired wholesale bakery owner still active in banking, was named treasurer of the ATA. His guidance and energies in investing the association's funds and supervising expenses offset the seriousness of an inflationary period and helped insure a strong healthy financial position. These achievements enabled the ATA to continue improving membership services and the Grand American shooting facilities.
He was also instrumental in developing a strong trapshooting association in the state of Maryland on all levels: club delegate, ATA delegate and alternate, and state treasurer.
Bob Smith originated and conducted the first registered 1,000-target singles marathon, and he was its first champion—in 1955. He also won in 1958 and was runnerup in 1956, '57, '61 and '62. His top score during those years was 991x1,000.
From 1954 to 1962 he led Maryland singles averages seven times, with his highest average of .9787 on 3,300 targets coming in 1961. He registered more than 200 100 straights and more than 75 199s. He has a long run in singles of 769, and his first 200 straight was in 1982 as he won the open championship at the Virginia State Shoot. He has registered more than 130,000 singles, 33,000 doubles and 65,000 handicap targets.
Bob Smith earned more than 300 trophies while competing in 17 states and provinces from 1948 to 1985. At his first Grand American in 1950, he broke 98 in the Grand American Handicap, tieing for ninth. In 1953 he captured the fifth-place award in AA in the Class Championships. Four years later he was on the winning Eastern Zone Team while breaking 199 in the Introductory Singles and ending with the top trophy in Class A. He was Past President Champion in 1978, and he earned three veteran championships at the 1981 Grand: two in doubles and one in singles. He was the senior veteran Vandalia Handicap champion in 1983.
In 1954 Smith tied for the Golden West Grand singles championship with 199, ending with the Class AA award. In Southern Grand competition, he was 1983 senior veteran doubles champion and runnerup in that category in the singles championship then and in 1985.
In Maryland State competition, he earned the ATA trophy for the Class A championship in 1960, and he tied for the state championship that year. From 1979 through 1982 he was ATA veteran champion, also tieing for the title in 1983. In 1979 he captured all five state vet trophies on the program, and he has earned numerous veteran awards in Virginia, North Carolina and Florida.
His many open championships include one in the 1955 Pennsylvania State singles, where his 199 was the top score of the meet. He also led a Virginia State handicap in 1983. In 1954 he won the Greenbrier Inaugural at White Sulphur Springs, W. Va., breaking 100 straight while shooting in a snowstorm. He also won championships while competing as a member of the Atlantic Indians, the Southern Indians and the Cavaliers.
Bob Smith was named to the 1982 All-America veteran team and the 1984 senior veteran team. An ATA life member since 1952, he holds membership number 4082.
At Gettysburg College in Pennsylvania, Smith was a member of Sigma Chi fraternity. A graduate with a BS degree in engineering, he was a naval flight instructor and ferry pilot during World War II. One of his students during this period became his wife. Marjorie Smith, former Maryland State women's champion and the first woman to head a state association, has served for many years as Hall of Fame Museum director. The Smiths reside in Taneytown, Md.