Hall of Fame Inductee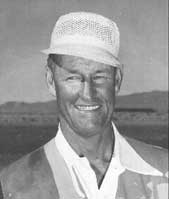 D. Lee Braun
Inducted in 1983
Born: 1-Nov-1911
Died: 18-May-1972
Age: 61
State: CA
D. Lee Braun of San Mateo, Cal. was named to 14 industry All-America teams in a shooting career that spanned 26 years, from 1943 to 1969. He captured four industry Clay Target Championships at the Grand American, and he shot on a record-setting 16-yard squad there. The author of two instructional books on clay target shooting, Lee starred in the movie versions of both.
During the Clay Target Championship at the 1947 Grand, Braun was a member of a singles squad which entered a 996x1,000 total, bettering the existing nine-year-old mark by three. The 996 remained a record—although tied four times—at any shoot until 1971, and it was high on the Grand grounds until 1975, not being surpassed by any squad containing an industry member until the Grand of 1980. Braun won the industry Clay Target crown with his 200 while in the record-setting squad, and he captured the crown eight years later with 199. A 200 won the title for him in 1960, and the same score earned the championship for him in 1966, the title for which he will probably be best remembered.
Braun went to work for Remington Arms Company after World War II, and he was regional sales manager when he passed away at age 61 in 1972, following a long illness. Remington established a memorial scholarship for him the following year, and, at the time of the announcement at the Grand, Remington vice president and director of marketing Jack McAndrews gave this account of Braun's personal courage and skill.
"It occurred right here at the Grand in 1966. Lee's health had not been good, and he had not been shooting competitively at all that year. For the first time in his shooting career, he had come to the Grand as an observer only—with no intention of shooting any events. For a number of days, he confined himself to riding up and down the line in an electric cart. Finally, he couldn't take it any longer. He signed up for the Clay Target Championship of North America and began to work his way from station to station and from field to field— hiding his pain and fatigue behind the relaxed, flawless shooting style that was the Braun trademark. We all watched him very carefully because we didn't think he could make it. Well, he did make it, and he did it the Lee Braun way—by smashing 200 straight targets in what was unquestionably his most amazing shooting feat."
Braun first shot trap in 1943 during World War II, while serving as a gunnery instruction officer for the Army Air Corps. At the Grand American his initial year, he fired on the winning Army fivesome in the Team Race. In 1943 Braun was fourth in AA of the Class Singles Championship, and he ended third in A of the Doubles Championship. Braun (who left the Army as a major) continued to attend the Grand American after his service career, missing just two of them after that 1943 beginning.
Lee Braun's initial industry title was that 1947 Clay Target crown, and he was also runnerup in the Doubles Championship that year. In 1949 Braun was industry leader in the Class Singles with 200, and the following year he led his category in the Preliminary Handicap. In 1953 he placed second in the Preliminary Handicap, and at the next Grand he was third in the Class Singles. His Clay Target title was his only one from the 1955 Grand, and four years later he secured third spot in the Class Singles with 199.
In addition to winning the Clay Target in 1960, Braun ended second in the Class Singles. In 1961 he was runnerup in the Clay Target, after being perfect in a 225-bird shootoff, and in 1963 he ended second in the Doubles Championship.
Lee Braun placed on first-string industry All-America teams in 1947, 1949, 1952, 1953, 1955, 1956, 1957, 1958, 1960, 1961, 1963 and 1964, and he was named to second teams in 1951 and 1954. He led industry doubles average standings in 1948 with .9100, and he earned numerous industry awards at state and zone shoots throughout his career. He placed on 19 skeet All-America teams and is enshrined in that sport's Hall of Fame.
Acknowledged as one of the finest teachers in the shotgun sports, Lee Braun was the author of two books about clay target shooting and the star of the movie versions. McAndrews remarked at the time the Braun scholarship was announced: "Lee took particular pleasure in teaching youngsters—and watching them grow toward championship stature. He was a firm believer that the personal confidence and self-discipline learned from competitive clay target shooting carried over their values into all phases of life."