Hall of Fame Inductee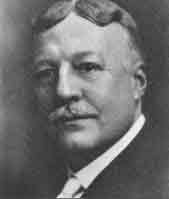 Elmer Shaner
Inducted in 1969
Born: 16-Jan-1862
Died: 14-Sep-1939
Age: 77
State: PA
Although he was never known to have ever pointed a gun at a target, Elmer F. Shaner still was recognized as the "Dean of Organized Trapshooting," the man who put the sport on the athletic map. Shaner spent nearly 50 years in the sport and didn't miss a single Grand American until failing health stopped his streak in the last two years of his life.
Shaner was managing tournaments for the Pennsylvania State Sportsman's Association when the old Interstate Manufacturers Trapshooting Association, a forerunner of today's Amateur Trapshooting Association, chose the former school teacher from the Pittsburgh, Pa. area to guide the destiny of their sport as its secretary-treasurer. He managed all 10 of the Grand Americans at live birds, from 1893 through 1902, also was the manager of the first 19 Grand Americans at inanimate targets. It was the genial Elmer who worked out the details of the registered tournament system and all the other systems that were promoted successfully by the Interstate Association. In the early days of trapshooting, Shaner's integrity helped insure that the sport was an honorable one in every way.
Shaner was a master of detail and system. Early in the history of the GAH, entries had to be made two weeks or more in advance of the tournament, making the work of the handicap committee considerably easier. An extra fee was charged for late entries. Shaner's rulings were as inexorable as fate. He would —and did—"scratch" the president of the association for tardiness, who could have—but didn't—fired him.
In 1913 Shaner resigned as secretary of the ITA but remained as its manager until the American Trapshooting Association replaced the ITA in 1919 and moved its offices to New York City. At that time, Shaner became inactive in an official capacity, but he continued to serve the association in an unofficial capacity as "manager-emeritus." In 1921 he was elected president of the American Trapshooting Association, as it still was known.
Shaner was one of the early proponents calling for an amateur voice in the sport. And when the present system of amateur control became the ruling power in 1923, Shaner continued to assist in every way he could. He was the man the ATA always called upon to give the opening address at each Grand American from 1923 until he finally missed his first GAH in 1938.
In the early days of trapshooting, no averages were kept for the purpose of handicapping shooters. It was Shaner who devised a system for keeping such records, and he had the first official average book published in 1913.
The "Grand Old Man" of the sport died in the Masonic Home at Elizabethtown, Pa. on Sept. 14, 1939. He was in his late 70s.