Hall of Fame Inductee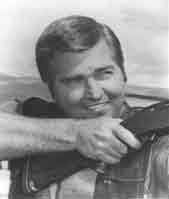 Gene Sears
Inducted in 1983
Gene Sears of El Reno, OK has placed on 19 consecutive first-string All-America teams (twice being named captain), earned nine Trap and Field All-Around Average Awards, captured 24 Grand American trophies (including championships in the Clay Target, the High-Over-All and the All-Around), and annexed 39 Oklahoma State titles and five Southwestern Zone championships. The initial 27-yard shooter to lead ATA yearly handicap average standings, Sears is also the lone gunner to pace singles and handicap averages the same year. He set records with both those averages, and he has been a member of three record-setting squads—two in singles and one in doubles.
Sears, who started shooting trap in 1954, earned three awards from the 1963 Grand American, including second place in the High-Over-All and the 27-yard trophy in the Grand American Handicap. He won the Introductory Singles crown in 1964 and again the following year, both times after 200 and overtime. That latter year he also secured the Clay Target Championship while running all 600 singles targets during Championship Week, becoming the fifth shooter in history to break them all. In addition to winning the two championships in 1965, Sears finished as runnerup in AA of the Class Singles.
Sears needed just 50 in shootoff to win the 1965 Clay Target title after 200, but 12 years later it took five shootoff rounds before he ended as AA victor in that race after a perfect score in the program. In 1970 and 1971 Sears earned the All-Around championship at the Grand, and he placed second in the High-Over-All the former year and third the latter. In 1976 he was H-O-A champion and runnerup in the All-Around. Also in 1976 he placed second in Class AA of the Doubles Championship after a tie for runnerup to the champion, and three years later he was second in the Champion of Champions Race and tops in AA of the Class Singles, with 200 and 250 in shootoff and carryover in the latter race.
At the 1963 Grand he won prelim Friday's doubles, and four years later he won the singles title on that preliminary day. In 1970 he secured two awards on prelim Saturday—the top singles prize and AA in the doubles contest.
Gene has been part of two winning family combinations at the Grand—Parent-Child Champion with son Garland in 1968 with a 394 total (Gene lost two) and Husband-Wife Champion with Betty Lou in 1979 with 395 (Gene was perfect). Sears shot on victorious Southwestern Zone squads in the Zone Team Race in 1968 (breaking 198 as they tied a record with 989) and in 1979 (with 200 as they again totaled 989).
Sears—the first 27-yard shooter to lead yearly handicap average standings and the initial person to head those averages twice after establishment of the 1,500-target minimum—is the only shooter in ATA history to lead singles and handicap listings in the same year. That was in 1965, when he entered records of .9950 on 3,200 singles and .9441 on 2,150 targets from the maximum yardage. (There had been a .9950 in singles in 1933 when the minimum-target requirement was 1,500 targets lower. Sears' .9950 on the 2,500-target minimum was surpassed in 1968 by Dan Orlich's .9982. Sears' 1965 handicap average stood as a record for 27-yard shooters until Dan Bonillas' .9501 in 1975.) Sears' original handicap lead was in 1963 with .9318 on 1,600 birds, fired at from 25 to 27 yards.
Gene was a member of both the 1971 and 1975 singles squads which broke the 996x1,000 record set by the quintet of which Lee Braun was a part in 1947. Sears entered 199 in 1971 at Phoenix, Ariz. when his squad recorded 997 to establish a new mark for a 16-yard squad on any grounds, and he was perfect in the 1975 Class Singles Championship as his fivesome totaled 997 to break the former high at the Grand American. (The 997 mark still stands at the Grand, but two squads since have entered 998 off the Vandalia layout—in 1980 in Florida and in 1982 in Indiana.)
Gene Sears broke 100 straight doubles while shooting with a squad at Evansville, Ind. in 1975 as they established a 492x500 squad record. (That total has been matched twice, both times in 1982.)
Thirty-nine Oklahoma State championships have been captured by Sears in the 29 years he has been competing, and he has also earned five Southwestern Zone titles. He secured the Oklahoma singles, doubles and all-around championships in 1959 and has since earned seven more in singles, 14 more in doubles and 15 more in the all-around. Southwestern Zone 16-yard titles were his in 1964 and 1968, and he captured all-around championships in 1965, 1968 and 1970. Four of Sears' state singles crowns were with 200 (in 1965, 1968, 1975 and 1979), making him one of six shooters in ATA history to win that many with a perfect score. He was inducted into the Oklahoma Hall of Fame in 1982.
Gene Sears was captain of the All-America team in 1966 and co-captain 11 years later, placing on teams for 20 consecutive years. He was on first teams from 1964 through 1982, and he was named to the second team in 1983. Sears earned nine All-Around Average Awards between 1963 and 1979, and he has recorded 99%-or-higher singles averages 10 times between 1963 and 1980. (Only one person in ATA history has 11, while three people tie Sears with 10.)
At the time of his induction, Gene was fifth in lifetime number of 100 straights in doubles with 15, and he had two 100 straights from 27 to his credit. His .98452 was the third-highest average registered on 100,000 singles targets. He reached that milestone in August of 1980.