Hall of Fame Inductee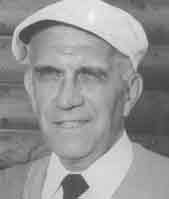 Alvah A. (Al) Riehl
Inducted in 1990
Born: 19-Sep-1896
Died: 21-May-1980
Age: 83
State: WA
Al Riehl was born into a trapshooting family, and at the time of his death 83 years later, he was recognized as one of the nation's leading promoters of the sport, a collector of trapshooting lore, and historian.
Riehl joined the Western Cartridge Company in 1917 but resigned 11 years later to enter the hotel business. Finding hotel management a bad choice during the depression years he returned to his first career choice and joined Remington in 1930 as a field sales representative in California, Washington, and Oregon.
He attended his first of 27 Grand Americans in 1937 and cashiered the Grand until the early 1950s when the practice of employing trade men to cashier was discontinued.
In 1953 Remington transferred Mr. Riehl to its Bridgeport, Connecticut home office, where he assumed the position of shooting promotion manager. In this role, Al developed the Remington Gun Club at Lordship into one of the country's largest training grounds for new shooters. He directed the preparation of a booklet, "Fundamentals of Trapshooting" and authored a series of monthly news bulletins for Remington which helped establish new gun clubs and assisted others in becoming more financially sound. Among his comprehensive Handbooks, used by both gun club personnel and shooters, were Gun Club Operation, Gun Club Organization, and Gun Club Cashiering. His goal was ever to maintain a continuing educational program on trapshooting and its mechanics. His efforts transcended commercialism to every part and parcel of the sport, and exceeded the call of duty in trying to educate the shooter to the fact that the firing line is only one small part of the shooting game.
Although his personal shooting was superseded by his main objective of promotion and introduction of new people to the game, his ability in the sport was well known. He was named a member of the 1951 industry All-America team. In 1929 he shot in the first handicap squad to break 125x125, and he won many industry trophies throughout his shooting career.
Al Riehl's name appeared in the first Average Book, published for the Interstate Association (a forerunner of the ATA) in 1913. His father, F. C. Riehl, was one of the premiere professional shooters at the turn of the century and served as district manager for both Western and Remington in the Pacific Northwest.
After publication of his article in March 1975 Trap and Field magazine titled "From Novice, to Junior, to Pro, to Veteran, to Has-Been", Some Footnotes to Trap History" Vic Reinders (Hall of Fame 1974 Inductee) wrote Al that "it was one of the finest articles I've ever read.., should be required reading for every trapshooter before he starts shooting his second thousand targets so he would understand better what goes on around him".
Al Riehl was honored with a large retirement party during the 1961 Grand American after 30 years with Remington. His devotion to the sport did not stop then. He continued to compose and contribute articles for publication about topics that he had studied and experienced over the years, sharing his knowledge with the current generation. He passed away on May 21, 1980.