Hall of Fame Inductee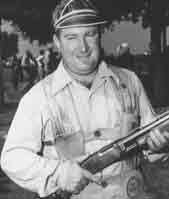 Arnold Riegger
Inducted in 1975
Born: 8-Jul-1920
Died: 6-Jul-1996
Age: 75
State: WA
Arnold Riegger was the second to earn his way to the 27 in the history of the ATA. The 27-yard line was instituted in 1955, and on Feb. 12 of that year, Arnold broke 97 from 26 yards to tie five others for the Joe Brown Handicap honors at Las Vegas Gun Club. (Merle Stockdale fired the third-high score of 95 in an earlier squad to be first on the 27.)
Riegger's first Grand American championship came before his initial state title. In 1949, as runnerup in his state singles, he was second in the Champion of Champions race, and he went home with the Clay Target Championship with 200 straight and 50 in shootoff. In '50 he won his state singles title, and he came back as runnerup in the Clay Target and won the Zone Singles crown. In '51 he repeated that latter win, was on the winning zone team, and copped the H-O-A and All-Around. In 1952 he was runnerup both in the Champion of Champions and the H-O-A, and in '53 he recaptured the Zone Singles title, became CofC and ended second in the Doubles Championship. Riegger successfully defended his CofC title in '54, having to break 200 in shootoff to do it, and he also regained the H-O-A, in addition to being AA champion in the Class Singles after 200. In 1955 he won Monday's Introductory Singles with another 200, and in 1959 he wiped out all the 16-yard targets at the Grand American from Saturday prelim on, winning the CofC and the Introductory Singles and placing third in the Clay Target.
That run that included 1,007 straight at the Grand extended to a registered record of 1,434 that ended on Sept. 19 in California. Counting shootoff and practice targets at the Grand, Arnold Riegger also broke Joe Hiestand's unregistered record that had stood since 1938. Riegger's unregistered run was 1,421, including 402 in shootoff during the Grand and 12 practice. The registered run stood until 1967.
His Washington State ATA titles include five 16-yard championships, two handicap, four doubles and six all-arounds. In 1960 he won all four: singles with 199, handicap with 98, doubles with 96 and all-around with a record 393, which still stands in his state. In Western Zone competition he won three singles titles, two handicap, two doubles and four all-arounds.
Five times he led national singles averages, and twice he was handicap leader. Riegger placed on 11 first-string All-America teams, captaining it by himself five times—in '51, '52, '54. '55 and '60.
At Elko, Nev. in 1954 Riegger broke 100 straight doubles, 100 from the 25-yard line and 200 singles, but the doubles race was a preliminary one and did not figure in the all-around. The last three days of the shoot he broke two 99s and the 100 in handicap.