Hall of Fame Inductee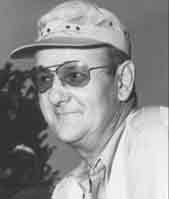 Victor Reinders
Inducted in 1974
Born: 27-Dec-1906
Died: 22-Jun-1997
Age: 90
State: WI
Vic Reinders, who won the Clay Target Championship with a lone 200 straight in 1958 when he was president of the ATA, is so associated with the growth of trapshooting in Wisconsin that shooters will be surprised to find he was born on a farm in Iowa. The year was 1906, and 29 years later he was receiving a Ph.D. from the University of Wisconsin, where he had been teaching chemistry for five years and from which he retired in 1972.
Vic Reinders has the distinction of being on more All-America teams than any other shooter in history, and he set a record for the highest average on 100,000 registered 16-yard targets—.98056—which stood from 1961 to 1974. Vic's lifetime average remained above the 98% mark until he passed the 140,000 registered target plateau.
His championships at the Grand American include the Doubles two times (1941 and 1959 and he tied in 1950), the All-Around twice (1957 and 1959), the High-Over-All three times (1941, 1947 and 1957 and tied once) and the Champion of Champions three times (1945, 1946 and 1952, tieing twice more).
Reinders' first registered 100 was in Wisconsin in 1936, and he has broken 200 straight 28 times, plus more than 200 more 1OOs. He smashed 100 from 25 yards in 1952 at the Illinois State Shoot, and he broke 100 in doubles at the 1963 Minnesota State Shoot. During his shooting career he has competed in 27 states and provinces, as well as in Australia and New Zealand. While in Australia in 1973, he put the half-millionth shell through the gun he has always used, a Model 31.
Wisconsin State titles have fallen to that gun 47 times, and he captured the singles in Texas during the war when he was stationed there during a 31/2-year stint as a gunnery officer. He has been the Badger singles champ 14 times, doubles 13 times, handicap twice and all-around 18. Reinders has also captured two Central Zone singles championships, one handicap crown, and two each in doubles and all-around.
His contributions to the growth of trapshooting have also been significant. He was a charter member of the Waukesha Gun Club, billed as the world's largest and most active membership trap club, and he has been either president or secretary of the club since 1938. He has also filled those offices in the state association, being elected president in 1973 and serving as a director since 1940. Reinders has also been delegate to the ATA since 1941, serving as Central Zone vice president for four years before moving to the presidency in 1958. He was the originator of the pocket score card. In 1953 he rewrote the trapshooting rule book, and since 1958 he has written a column for Trap and Field, the ATA's official publication. He has been active in combating anti-gun legislation, and he has instructed thousands of youngsters and older shooters in the shotgun sports, numbering several champions among his pupils. He is even now currently involved in teaching a class in trap through high schools.
Vic Reinders earned his way on the first-string All-America team 21 times, captaining it in 1940, '41, '44 and '58. He also placed on the second team four additional times, and the vet's team once, and in the 1972 and 1973 Grand Americans he captured five veteran awards, including the 1973 High-Over-All.