Hall of Fame Inductee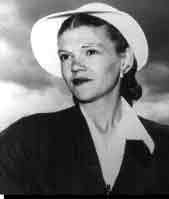 Ruth Ray
Inducted in 1994
Born: 16-May-1920
Died: 2-Apr-2011
Age: 90
State: OR
Ruth's most prolific years at the trapline encompassed the late 1940's through the early 1960's. At the 1960 Montana State Shoot, she was the only person to shatter 200 in the Singles Championship, winning the top non-resident trophy. This 200-straight was the first in the A.T.A. record books posted by a woman.
In 1950 Ruth set a woman's record in the Clay Target Championship by breaking 199, which was two targets over what had been carded to cinch the title prior to that. The 199, matched in 1959 and 1968, remained high for 22 years before a 200 was posted.
At the 1960 Grand, Ruth paced women in the Introductory Singles with 199, and she won the ladies' trophy in the Preliminary Saturday handicap that year with 90 from 22 yards and a pair of 24's in overtime.
She and Cal captured the Husband-Wife title at the 1948 Grand American with 198x200, and the following year they earned the championship with 195. Ruth contributed 98 and 97 to the winning totals. Also in 1949 Ruth finished second in shootoff with 24 in the women's Champion of Champions contest after a 97 deadlock for the crown.
She captured four ladies Western Division (Zone) championships — — in 1948 with 191, '50 with 197, '53 with 195 and '61 for 194.
Ruth earned A.T.A. women's crowns in two states, setting records in both. In Oregon she prevailed in 1948 with 188, the following year with 192 and '51 with 191. Her 192 was a mark that stood for 25 years. She also garnered three titles in Washington from 1960 through 1962. She was high in '60 with 191, and her winning total the next two years was 194, two above the previous record.
Ruth was captain of the women's All-America team back-to-back in 1949 and 1951. (There was no team for 1950. Prior to 1950 teams were named for the year in which the accomplishments happened — for example, 1949 team members were chosen for 1949 achievement. The following year, the team was called the 1951 team, based on 1950 performances.)
The 1949 team was the first separate women's squad named. Before that, one or two women were included on an overall team. Ruth was also on teams in 1952, 1959, 1961, 1962 and 1963.
The Ray's were the first husband-wife duo to place on All-America teams the same year. They were both selected in 1949 and 1951.
Ruth led A.T.A. women's singles averages for three consecutive years — in '49 she broke .9469 of 9,550 targets, in '50 she averaged .9655 on 8,750, and in '51 she hit .9608 of 3,350. In 1958 she established a ladies handicap record of .9238 on 1,300 targets.
In 1948 Ruth won a handicap in Sun Valley with 99, two targets over the field. The following year she broke 99 again, this time to tie for runner-up honors. She earned that prize in shootoff over two, including the legendary Arnold Riegger.
One year she registered a total of 16,550 targets of all three types. She retired with more than 41,000 registered 16-yard targets and now enjoys golf and volunteer work in her Washington State home.