Hall of Fame Inductee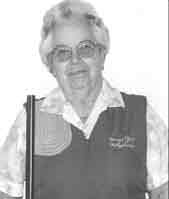 Gladys Pfost
Inducted in 1997
Born: 18-Oct-1931 ?

State: KS
Gladys Pfost's shooting career began some 49 years ago in the town of Phillipsburg, Kansas. In only her fourth year of shooting, Pfost competed in the 1951 Grand American and was greeted with remarkable success. Along with husband Wade, the two captured Husband-Wife honors after breaking 197x200. Five years later they reclaimed the same title with 386x400 and then won the title again in 1958 with 388.
In the 1961 Vandalia Handicap, Gladys notched a 97 from 21 yards in claiming women's honors. She also placed third that year in the Women's Champion of Champions competition with 97.
In 1962, she finished second among ladies in the Introductory Singles with 192 and was runner-up in the Champion of Champions the following year.
In 1964, Gladys claimed three more women's awards. She hit 90 plus 19x20 to secure second place in the Doubles Championship. She also earned top honors in the Introductory Singles with 196 and won the Class A title in the Singles Class Championship.
For several years, special trophies were awarded on the first hundred of the Class Singles for both men and women veterans. She earned the ladies' prizes in 1977 and 1978 with 97 and 99 respectively. During the early half of the 1980's, Gladys won four women's veteran trophies in the Grand American Clay Target Championship, with 195 in 1980 being her top score.
Gladys won two Southwestern Zone ladies' championships; in 1963 with 95x100 and 1972 with 195x200. She captured her first Kansas women ATA Singles crown in 1959 with 94x100. This was followed with victories in 1961 with 97x100, 1962 with 190, 1963 with 193, 1964 with 94x100, 1965 with 191 and 1980 with 192. Along with these seven titles, she placed second ten times in this event.
Inducted into the Kansas Hall of Fame in 1977, she was a member of the state team every year from its inception through 1986. Other significant achievements include her first 100 straight on September 11, 1955 at Doniphan, Nebraska, the first woman shooter to win the Flamingo Handicap at the annual Midwinter shoot in Las Vegas and selection to All-American teams in 1952, 1953, 1956, 1957, 1959-1967, 1969, 1971 and 1974.
Gladys Pfost has attended the Grand American 35 times since she began her shooting career. Her sister Iva Pembridge Jarvis was enshrined in the Trapshooting Hall of Fame in 1975.
Obituary from Hays Daily News, Hays, KS
Gladys Pfost, 89, Phillipsburg, died Sunday, July 2, 2006, at Phillips County Hospital, Phillipsburg.

She was born Dec. 2, 1916, in Phillips County to Arthur and Cicely Isabelle (Jones) Pembridge.

She married Wade Pfost on June 8, 1938, in Phillipsburg. He preceded her in death Sept. 4, 1990.

Survivors include two sisters, Iva Jarvis and Alice Chance, both of Phillipsburg; and nieces and nephews.