Hall of Fame Inductee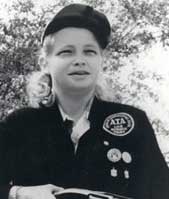 Joan Pflueger
Inducted in 2004
Born: 2-Dec-1916
Died: 2-Jul-2006
Age: 89
State: FL
When Joan Pflueger was 18, in 1950, she broke 100 straight and 74x75 shootoff targets to become the first woman to win the Champion of Champions event at the Grand American. Among those she defeated in the shootoff were Ned Lilly and Mercer Tennille. She qualified for the men's open race by being runner-up in the Florida Singles Championship the same year she won the Florida State AII-Around title and Open High-Over-AII.
Joan's first Grand trophies came in 1949 when she led women in the Champion of Champions race and was third among ladies in the Preliminary Handicap. The next year, in addition to her big win over the men in the Champion of Champions, she earned women's recognition in the Preliminary Handicap, the Clay Target Championship and won the ladies' High-Over-AII.
At the 1953 Grand she won ladies' honors in the Doubles Championship (five birds ahead of the field); two years later at the Grand American Joan won both the ladies' AII-Around and High-Over-AII.
Between 1947 and 1970, she won the Florida women's title seven times and was named to 10 AII-American teams between 1949 and 1971.
At 13 in 1944, Pflueger's shooting career began. The late Rudy Etchen's dad, Fred, who ran a gun club in Miami, became her coach and mentor.
Joan shot live pigeons in Havana, Cuba when she was 15 years old, and became a member of the winning world championship team.
The Florida Trapshooting Hall of Fame inducted Joan in 1980.