Hall of Fame Inductee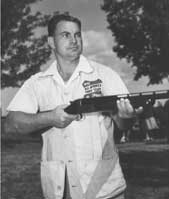 Julius Petty
Inducted in 1975
Born: 1-Jun-1911
Died: 21-Dec-1956
Age: 41
State: AR
Julius Petty of Stuttgart, Ark. was killed in an automobile accident just before Christmas of 1956 after having placed on 11 All-America teams from 1942 to 1955. captaining it once.
The first of Julius Petty's Grand American trophies came as a junior in 1927 when he won a men's doubles award. In 1942 he broke the lone 200 straight in that Grand to win AA in the Class Championships, and he was also runner-up in the Champion of Champions race that year with 100 straight. He ended as high on the 500 16-yard targets with 495, and he was H-O-A Champion with 910x950. He regained his AA Class Championship trophy in 1945, and in 1948 he was runner-up in the Doubles Championship with 96. Two of his numerous Grand American trophies were for the Brother-Brother race (in '46 and '50).
In 1950 Julius Petty put on a display of marksmanship unequaled at the Grand American. Firing from the then-maximum of 25 yards, he broke 97 of 100 in the Preliminary Handicap, followed with a 99 in the GAH that placed third, and finished the week with a 97 in the Vandalia Handicap. He missed three on the first trap in the Doubles Championship then ran the rest and 20 in shootoff to take the crown. That 97 helped him set an All-Around record of 392 that stood until 1961.
In 1952 wife Stella joined Julius in a shootoff to capture the Husband-Wife award. In '54 he was Clay Target Champion following 200 straight and a shootoff, third in AA in the Class Championship with another 200 and shootoff and runner-up in the H-O-A.
Twice Julius Petty was a member of a squad breaking 992x1,000 at the Grand. The first record 992 squad of amateurs at the Grand came in 1948, where Julius was one of two in the fivesome breaking 200 straight. Their second hundred also set a record at the Grand of 499x500. Six years later Julius was in another squad totaling 992, and again he was one of two breaking them all.
Julius Petty won 25 Arkansas State crowns from 1928 to 1952: the singles seven times, the handicap five times, the doubles seven times and the all-around six times, winning them all in '46.
In 1954 his even 94% on 1,450 targets was the highest compiled from 25 yards to that date in history, but it was 50 targets shy of the 1,500 minimum which would have led all ATA shooters.
Julius Petty won six Southwestern Zone titles—the doubles in '49, the singles from '52 to '54, and the all-around in '49 and '53.