Hall of Fame Inductee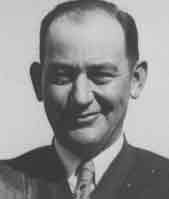 Gus Payne
Inducted in 1971
Born: 1-Mar-1896
Died: 2-Apr-1947
Age: 51
State: OK
Gus Payne, Tulsa sporting goods salesman, was one of the top trapshots in Oklahoma for 15 years. Payne shot his first registered targets in 1921, three years after he received his discharge from Uncle Sam. Intermittently throughout his life, he suffered from shell shock received in the Battle of Argonne in World War I.
Payne won the Oklahoma State 16 yard championship in 1923. Four years later he tied for runner-up spot in the North American Clay Target race with 199x200, and the following year he shot a 197 to tie for the Champion of Champions crown. Payne broke into the Grand American victory column in a big way in 1929 when he captured the NACTC with 199, tied Hall of Famer Frank Troeh in the CofC and 600 singles, and finished high on all targets with 1,132x1,200. The following year he moved to Cleveland where he led the Buckeye state singles averages with .9793 and handicap averages with .9424. In I 930 Gus again won the NACTC with 199, Class AA in the CofC with that score, was high on the 600 singles and 200 handicaps with 782x800 and placed fifth in the Grand American Handicap with a second-high 96 from 25 yards.
He moved back to Tulsa shortly after that Grand and at the next tournament won the International 100, the Doubles Championship and the H-O-A with 952x1,000. Gus won the Oklahoma State 16-yard championship six times, the handicap twice, the doubles five times and the all-around four years. He was a member of the 1929 and 1930 All-America teams.
Payne passed away Apr. 2, 1947 at the early age of 51.